Ferndale Park is a 9.3 ha stretch of remnant bushland in Chatswood West. It is narrow, so that anywhere within the reserve is less than 150m away from a dwelling. It is bounded by Dalrymple Ave in the East and Chatswood Golf Course in the West. The rest of the reserve is bounded by private property. Swaines Creek runs through the centre of the park with many stormwater drains feeding into it. A major sewer line has been laid down the centre of the gully which is evident by the series of sewer overflow points found in the creek line. Water flows through the Golf Course before draining into the Lane Cove River. The park is characterised by the Gymea soil landscape (gy) which consists of eroded Hawkesbury Sandstone with minor shale lenses.
Bush regeneration by Council Teams, Contractors and Bushcare Groups has controlled the spread of weeds and increased the health and resilience of the native plant community. Prescribed burns have also contributed to increased plant diversity.
Ferndale Park Bushcare Group maintins allocated areas at the south (Dalrymple Ave) end of the reserve.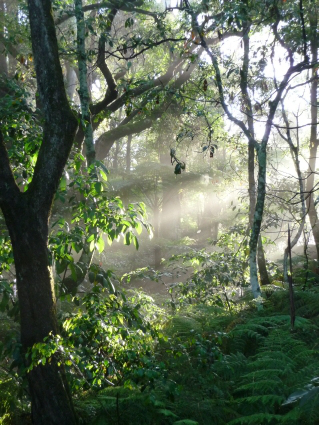 Download group KML