The Redhead Bluff Landcare site is located off Ocean Street, Redhead and is bounded by the Tasman Sea. The site is a cliff-top reserve variously mapped as Natural Area- Bushland, Natural Area - Escarpment and Park on the Community Land Plans. The reserve is zoned 7(4) Environmental - Coastline, adjoins Awabakal Nature Reserve (zoned 8) to the north.
Vegetation Community
: Coastal headland Complex (MU51 under the 
Lower Hunter and Central Coast Regional Environmental Management
Strategy vegetation mapping of 2000)
Endangered Ecological Community
: Themeda grasslands on 
seacliffs and coastal headlands in NSW North Coast, Sydney Basin
and SE Corner Bioregions.
Landcare goals and activities:
The group has been targeting the Bitou 
on site, and this is working well in the northern section with the
majority of vegetation cover now regenerating natives with a good cover
of Acacia longifolia, Acacia sophorae, Kennedia rubicunda, Breynia
oblongifolia, Leptospermum laevigatum, Polymeria calycina and Gahnia
sp. Banksia integrifolia. Other weeds on site are Gazania, African Daisy,
Cassia and Buffalo Grass.
The section of the site south from Iluka Street is more problematic with 
Bitou dominating much of the site, and occasional "islands" of native
plants including
Banksia integrifolia
,
Rapanea variabilis
,
Lomandra
longifolia, Kennedia rubicunda, Glochidion ferdinandi, Monotoca
elliptica, Leptospermum laevigatum and Themeda australis. The long-term
goal is to remove weed species from these "islands", and to
gradually expand and link up these areas on the clifftop.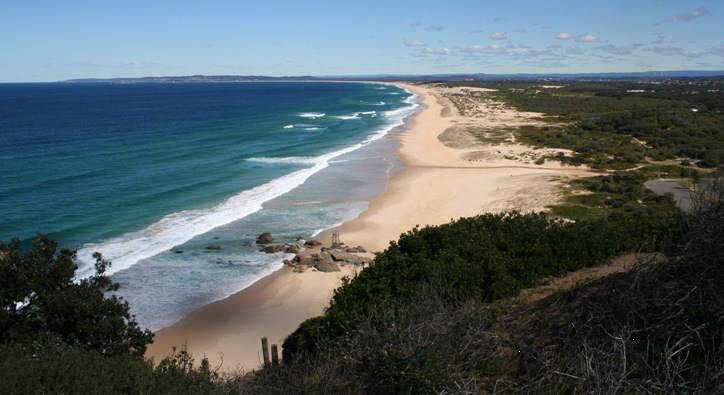 Looking from Redhead Bluff along Redhead Beach
Download group KML