Bushcare - It's a Community Activity
Wingecarribee Shire Council has care and control of more than 40 significant remnant bushland reserves totalling over 4000 hectares.
The Wingecarribee Shire is fortunate in having an exceptionally diverse range of flora, fauna, and geographical variances within the one catchment. Topography, soil type and rainfall determine what flora and fauna exists at a particular site. In the richer soils and higher rainfall areas situated to the north east area of the catchment, small remnants of original rainforest, tall eucalypt forests, and associated fauna is found.
This contrasts with the poorer soils and drier conditions of the western parts of the catchment in which vegetation type is open woodland.
Apart from several major reserves already cared for by volunteer groups, bushland areas are under constant threat from a number of factors including, weed invasion, dieback, fragmentation, continual disturbance, and lack of maintenance.
Volunteer Bush Regenerators play an essential complementary role in Council's management of this bushland. This role is primarily concerned with regeneration of degraded bushland areas and increasing the health of bushland within the Shire.
The Volunteer Bush Regeneration program is integrated with the works of Council staff, contractors and other community groups which all contribute to Council management of bushland on a catchment basis.
The Wingecarribee Shire Council 'Bushcare Program' is designed to integrate the community with the management of bushland.
Members of the community concerned with the declining health of their local bushland are able to play an active role in the bushlands rehabilitation and assist Council with management issues related to the reserves.
Due to the importance of Volunteers within Wingecarribee Shire, Council is committed to the long-term support of the program. Council supports the program by providing goods and services that are required for the restoration of natural bushland, namely, the necessary skills, information, support and direction to achieve success in their work.
There are several benefits to the community that stem from a Volunteer Bush Regeneration Program. These include the reversal of bushland degradation, the development of community spirit, a sense of pride and achievement, the conservation of biodiversity, raising community awareness, education and the improvement of aesthetic values related to natural bushland.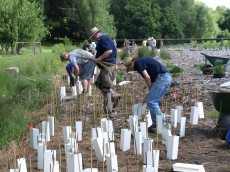 What is Bush Regeneration?
Bush regeneration is the practice of restoring bushland by focusing on reinstating and reinforcing the system's ongoing natural regeneration processes (Australian Association of Bush Regenerators).
Each volunteer group aims to rehabilitate the bush from a weed infested or otherwise degraded plant community to a healthy community composed of locally occurring native plants.
Bush regeneration programs are long term commitments that require the development of a variety of skills, concepts and techniques. These cannot be obtained overnight, they are developed through a combination of learning, research and observation.
Bush regeneration is not just weed removal, it is an integrated approach that encourages the bush to 'bounce back' through natural processes. This approach must focus on many aspects of the environment such as habitat, drainage, weed sources and establishing native communities.
(Courtesy of Wingecarribee Shire Council)
Download group KML