Supervised by Gosford City Council Bushcare
Group meets Second Saturday of the month
Summer 8.00am -11.00 am, Winter 8.30am - 11.30am
Wamberal - End of Remembrance Dr, near Surf Club carpark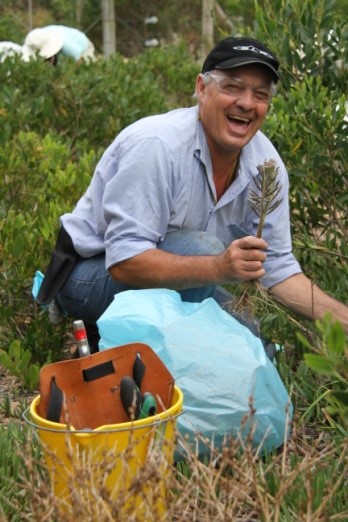 Our bushcare site lies between the Wamberal Lagoon and the ocean.   We have been working here for many years and have made a great difference.
People going for a surf or a walk compliment us on the change to the area.      The vegetation we have planted is thriving.
Importantly, the pig face plant has proved to be particularly efficient at stabilising the sand dunes and  also providing a ground cover which inhibits weeds.
In Summer, we meet on the second Saturday of each month from 8.00 a.m. to 10.30 and 8.30 to 11.00 in Winter.
Naturally, we get together for coffee and tea and slices afterwards.
The worst weeds in our area would have to be Mother of Millions, Morning Glory and Turkey Rhubarb.
We also propagate seeds from our site and plant in the area.
New members are always welcome,
Download group KML