Warners Bay Landcare works to regenerate a number of Landcare sites in Warners Bay, New South Wales.
Warners Bay Landcare's Mission Statement is:
'To help the community to better manage the three catchments of Warners Bay: North Creek, Warners Creek and South Creek.
To protect or, where necessary, rehabilitate the natural vegetation of the riparian zones of these creeks, so as to create wildlife corridors and reduce adverse impacts on Lake Macquarie.
To educate the community about how to protect the natural vegetation of the area.'
The group was established following an initial meeting for the Cleaner Waterways for Warners Bay Project on 20th December, 1999. John Hughson, the Lake Macquarie Landcare Co-ordinator at the time, spoke with interested community members about the benefits of setting up Warners Bay Landcare (WBLC) and possible grants that could be accessed.
Warners Bay Landcare's first meeting was on 22nd February, 2000, and it was resolved to meet monthly to decide on projects and methods for conserving the natural areas of North and South Creeks within Warners Bay and Eleebana. The inclusion of Warners Creek catchment, which lies between North and South Creeks, was first suggested in December, 2002.
Kath Palmowski was elected chairperson of the group at its first meeting, and she remained in the position for one year, when Robert Loughran took over.
The organisational structure of WBLC includes members who attend the monthly meetings under the chairperson, and guardians for each Landcare site who are responsible for outlining the programme of work at their sites. The activities and associated resources proposed for all sites, are approved by the Lake Macquarie Landcare Coordinator according to the sites' Agreed Action Plans.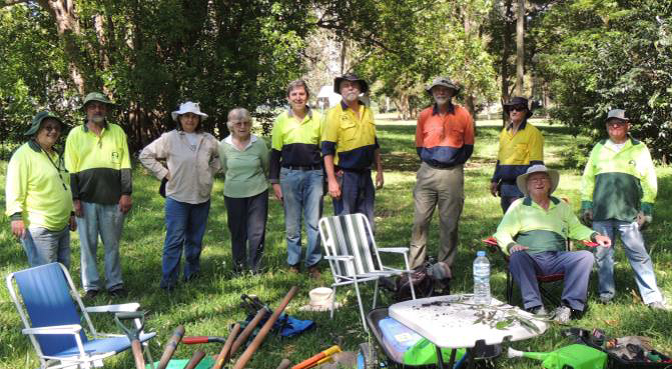 Warners Bay Landcare and Lake Macquarie Green Team members celebrating the planting of Warners Bay Landcare's 100,000th plant.
Download group KML