Drought time monitoring
Rabbits are never really gone
Drought time monitoring
Rabbits are never really gone
Taking Action
-
LLCI023-034
The issue
Rabbits seem to appear in abundance after a good rainfall event, out of nowhere. As the drought hold tightens on vast areas of NSW, there often appears to be no rabbits around and feels like rabbits have not been seen in a very long time. It often also seems that the drought has taken a huge toll on rabbit numbers, and yet, not long after rain, rabbits seem to be everywhere in a very short space of time. Warrens that were once thought to be empty, neglected and sanded, up all of a sudden are harboring multitudes of rabbits that appeared not to be there during the dry. This leads to the misconception about the actual numbers of rabbits present and therefore, poor understanding of current population densities that persist through dry times.
The solution
Monitoring rabbit warren activity is imperative to the control of a resident rabbit population. As part of the Willandra Lakes World Heritage Area Rabbit Program monitoring using FeralScan, has proven that in areas thought to have extremely low or non-existent rabbit numbers, actually have as many as 80% of warrens with at least one active entrance. Given the ability of a pair of rabbits to start breeding very shortly after a significant rainfall event, it is easy to see that the rabbits are not coming from other areas but are already in the area in low numbers. Monitoring, surveillance and mapping of population densities is becoming an extremely useful and affordable tool for more successful control, as part of a pest animal control program. The information gathered from accurately monitoring warren activity will be used to help target areas and determine the most effective control method, depending on a variety of factors including location, soil types, culturally sensitive areas and paddock use.
The impact
Effective and accurate on-ground monitoring and surveillance is the best way to identify the population density of rabbits. The FeralScan App has allowed landholders to take the monitoring program with them and monitor rabbit activity during the day-to-day running of their individual enterprises. FeralScan allows the operator to record rabbit and warren sightings, damage caused by rabbits and control measures at specific sites. This is valuable information for ongoing monitoring and control programs. The information is also important when trying to secure funding for assistance in future control programs. The information gathered from accurate and regular monitoring will allow landholders to accurately gauge whether or not rabbit numbers have increased, and whether or not control measures were successful. It is evident from the monitoring that has already taken place that rabbits were in fact already present.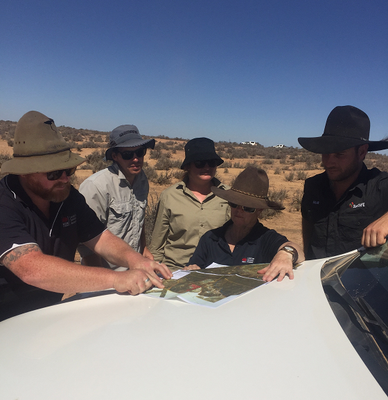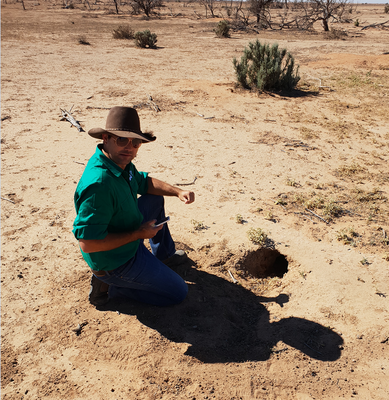 Key facts
Monitoring rabbit warren activity is imperative.
Approximately 80% of warrens have one active entrance.
The FeralScan App is easy for Landholders to use.
Project Partners