Healthy Soils, Healthy Farms Education Program
Landcare shares the knowledge of how farmers care for our most precious resource soil to school children
Healthy Soils, Healthy Farms Education Program
Landcare shares the knowledge of how farmers care for our most precious resource soil to school children
Local Links - Stronger Communities
-
LLCI023-036
The issue
A healthy landscape starts from the soil up, but who looks after the soil and what do you need to ensure that soil remains healthy often remains a mystery to school children. Approximately, 61% of the Australian land mass is cared for by farmers, meaning that they are the primary custodians of our soil resources. Currently, it is estimated that we are losing our soil resources at a rate between 10-40 times faster than we are generating soil. Farmers have already implemented a variety of strategies to reduce this rate, however, it will be soon be the next generations role to look after our soil resources.
The solution
The Buckwaroon Landcare group based around Cobar are all incredibly passionate about their role as both a farmer and as soil custodians. Being the primary custodians of the Australian soil resources they worked with agricultural professionals at Western Local Land Services and Western Landcare NSW to design and delivered a highly interactive 2hr workshop aimed to educating  primary school children about soil conservation. Through playing for purpose students got a taste of how farmers care for the environment using QR codes, science experiments and through exploring how water alters a landscape through the use of a stream table.
The impact
The 'Healthy Soils, Healthy Farms' education program was a highly successful with a total of forty-four year 4 students attending the workshops. Students discovered what erosion is and how farmers implement strategies to prevent soil erosion in a fun and interactive way.  As farmers were the main presenters on the day the workshop was filled with real world experience and students left the event with a new found appreciation of the role farmers have in caring for our soil. Feedback from both teachers and students indicated that this might just be the highlight of the school year!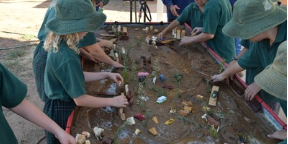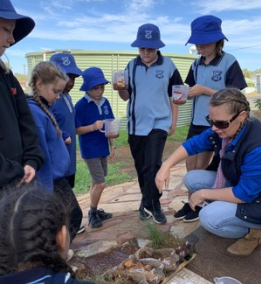 Key facts
Farmers have the greatest role in caring for our soil resources and have the greatest credibility when delivering messages about on farm activities
Education plays a vital role ensuring our soil resources are conserved and ensuring that the next generation have the knowledge to conserve our soil in the future
Project Partners