This listing has no current Administrator, if this is your group then contact
Gateway support
to arrange for access.
We're a friendly, ungated community garden in the culturally diverse suburb of Marrickville in Sydney, Australia. Visit us at 142 Addison Road Marrickville, we're behind the Martial Arts Hut and the Greek Theatre.
Addison Road Community Garden is an un-gated community garden located in the grounds of the Addison Road Community Centre. It is a well established community garden and provides urban food production and sustainable community initiatives for Marrickville residents by providing opportunities to grow food locally, share knowledge and expertise in gardening, interact with diverse community members in a safe environment, engage in manual labor providing healthy exercise and fostering good mental health, experience artistic inspiration, encourage eco-living and waste reduction, encourage healthy eating, increase number and diversity of plants and animals in the area, address soil contamination, enjoy eating fresh and locally produced food; and participate in democratic decision-making.

ARCGarden facilitates volunteerism and participation by including people who experience poverty, isolation and unemployment, are elderly or young, would otherwise not have access to gardens, are from Culturally and Linguistically Diverse backgrounds, have disabilities, identify as Aboriginal and Torres Strait Islander, identify as Lesbian Gay Bisexual Transgender Intersexual and recent immigrants.

ARCGarden benefits the thirty-odd members, including community organisations (early learning centre and centre for adults with disabilities), and locals and passers-by who may freely access the garden. ARCGarden is a place to share ideas, to unwind in a haven, take home fresh vegetables for dinner and cuttings for home gardens, share seeds and use compost facilities for food waste. ARCGarden benefits the community as a whole by actively responding to climate change and reducing greenhouse gas emissions through local food production with near zero food miles and composting organic waste material reducing land fill.

ARCGarden is committed to developing sustainable group facilitation techniques with a formal Charter and Code of Conduct. New members are inducted into a robust community internally within the ARCGarden and more broadly in the Australian Farm and Community Garden Network, local community garden networks, Inner West Seed Savers, National Herbalist Society and other like-minded organizations. 

ARCGarden has developed mutually beneficial relationships with the Addison Road Community Centre Organic Markets. At the close of markets on Sunday afternoon ARCGarden collects "spoiled" produce from the farmers' market stalls. We then separate the truly spoiled produce from the merely unsellable. Members enjoy an often abundant free 'harvest' from the markets and true waste in turned into compost or food for the many worm farms. The soil in the ARCGarden is thick and rich from many years of adding good compost, constantly rejuvenating the soil. Landfill is reduced and members are educated about recycling food. 

At ARCGarden we cook lunch from produce from the garden and from the 'harvest' from the markets on Sundays at our working bees providing food for people, many of whom experience financial and or social disadvantage. We also demonstrate cooking with fresh and unusual ingredients, for instance sweet potato greens, which grow in abundance.

ARCGarden has good relations with other organisations within the Addison Road Community Centre and with the Centre itself, artists who work in the many huts, children who attend the martial arts hut, the Greek community and the Latin community. ARCG sources from donations, FreeCycle, kerbside-throw-outs, Reverse Garbage and the Bower, which contributes to the minimisation of illegal dumping and encourages the adoption of zero waste principles. Members and visitors to the garden are educated on the potential for re-use of objects.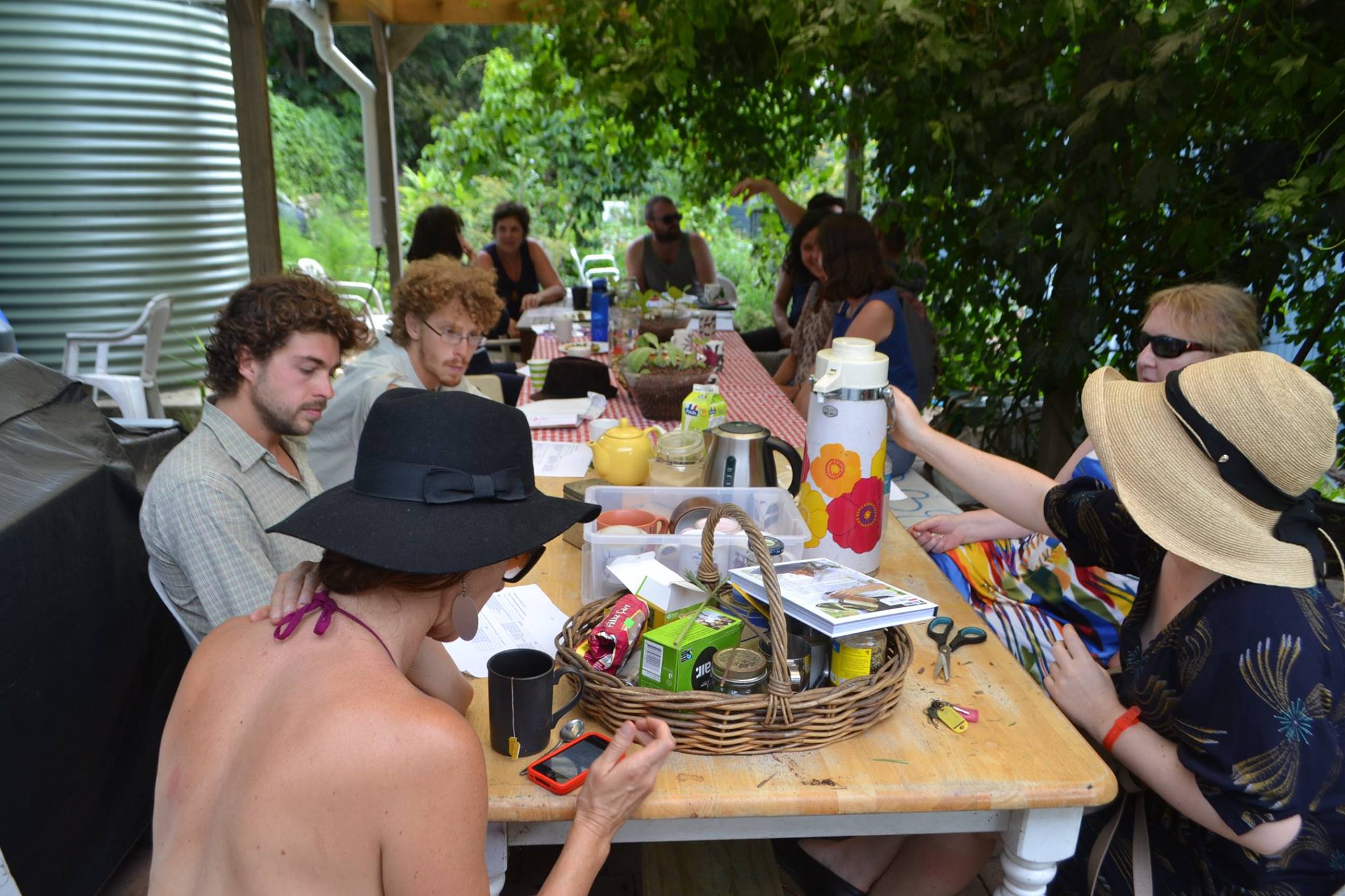 Download group KML