Claire Cottage butterfly and wildlife haven
Creating a wildlife corridor between Junuy Juluum NP and a private land rainforest conservation remnant on the Dorrigo Plateau
Claire Cottage butterfly and wildlife haven
Creating a wildlife corridor between Junuy Juluum NP and a private land rainforest conservation remnant on the Dorrigo Plateau
Community Participation
-
LP022-014
The issue
Claire Cottage is a property on the Dorrigo Plateau being cared for by highly motivated landholders, Trevor and Carol Deane. The property is adjacent to the Junuy Juluum National Park, which means small mountain in the local Gumbaynggirr Language. The property also has a significant rainforest remnant which is protected under conservation covenant, so this provided an excellent opportunity to create a habitat corridor between the national park reserve and conserved rainforest remnant. The site started as previously grazed paddocks dominated by Kikuyu grass. The exposed location experiences heavy winter frosts, strong westerly winds as well as browsing wallabies and brush-tail possums. During 2019 the property also was subjected to an extended dry spell.
The solution
Planting work commenced in November 2016. Mindful of frequent freezing winter temperatures, cold hardy pioneer shrubs were planted first to provide a sheltered zone in which to later plant young rainforest trees. 300 locally sourced trees were planted in Nov/Dec 2016 in pre-sprayed patches, in 5 rows, 2m apart, with trees also 2m apart. The plantings were staggered row on row, with all plants protected with a plastic sleeve and given an initial watering. Ongoing weekly checks were performed and weeding undertaken as necessary. Further planting of 400 additional rainforest plants was completed in Nov/Dec 2018. Hard pruning of the cold hardy species was undertaken in July 2020 to ensure all developing rainforest plants have a strong light source above them to encourage faster growth.
The impact
The work has been undertaken by the highly energetic landholders with some assistance from friends, driven by a strong commitment to success, and supported with funding from the NSW Environmental Trust through the Bush Connect program and the Jaliigirr Biodiversity Alliance. Initial plantings of pioneer species are being successfully diversified with rainforest species, many sourced from the local Dandarrga Landcare Nursery in Dorrigo. The long 2019 drought put many rainforest trees under a degree of stress, so the trees were hand watered as necessary. Whilst the growth rate is variable, the best rainforest trees are over 4 metres tall with most in the 1–2m range. Cold hardy trees have grown to the 3-8m range. Additional work is planned to reinforce this important wildlife corridor.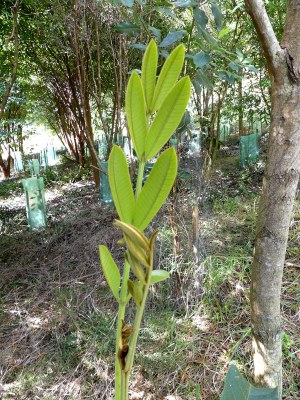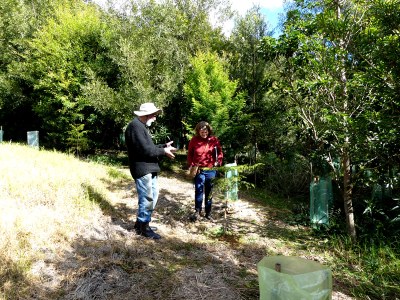 Key facts
700 local provenance diverse plant species now growing well
98% survival rate of the plantings
Wildlife corridor created between two protected areas
High level landholder commitment essential to success
Project Partners