Madeira Vine in Berry, April 2021
Berry Landcare calls on all land-owners, carers and gardeners to recognise the imminent threat this weed poses and to remove it from our environment. For help with identification and more details on herbicides and application techniques contact • Ian Parker: ianlindap@shoalhaven.net.au 44486359 (leave message); or • Hugh Shiels: admin@boongareebushcare.org 0417 407477
Madeira vine, Anredera cordifolia, is exotic, South American, has a cakey name, beautiful drooping cream flowers, a sweet scent, picturesque creeping habit, and has edible leaves and tubers. It is also a vigorous and invasive Weed of National Significance, difficult to eradicate, and has made Berry its home. Its name is Madeira Vine or Lambs Tails, (Anredera cordifolia, or as I like to know it as "An-dread-era").
 Growing both wild and in Berry's gardens, past control actions haven't dented its distribution. It is now spreading rapidly along the banks of Broughton, Broughton Mill and Bundewallah Creeks. You can check it out on land bordering the Bowling Club and the Bundewallah Creek bridge.
This vine forms dense mats and climbs into and smothers tree canopies. It out-competes native vegetation, posing a serious threat to biodiversity and habitat values. It reproduces vegetatively via dispersal of stem fragments, tubers, and bulbils (aerial tubers) which grow prolifically along its stems and are easily separated when disturbed. Each tuber can start new plants and lie viable in the soil for at least 10 years.
Berry Landcare calls on all land-owners, carers and gardeners to recognise the imminent threat this weed poses and to remove it from our environment.
Simple one-off spraying is ineffective and slashing, mowing or composting without treatment simply spreads the problem. Careful and repeated management is required for eradication. If you simply pull it down, you spread thousands of bulbils and ensure its survival, (and the need for repeated intensive weeding) into the future. All material must go into the red bin, or be burned, not into the compost!
How does it spread?
 Growing long lived tubers along a climbing vine gives it a huge advantage.  Tubers float downstream and germinate on the banks. It seems likely that we are its main dispersal agents, in the grooves of our tyres and boots!
Identification
 It is easy to spot now, but won't be in flower for much longer, so the best way to identify it is by its heart shaped, glossy, thick and fleshy leaves, and the presence of the rhizomes or tubers along its mature stems.  Since its main method of reproduction is by the spread of vegetative bulbils/rhizomes, it is important to try to dig up the root of even small seedlings to find the rhizome.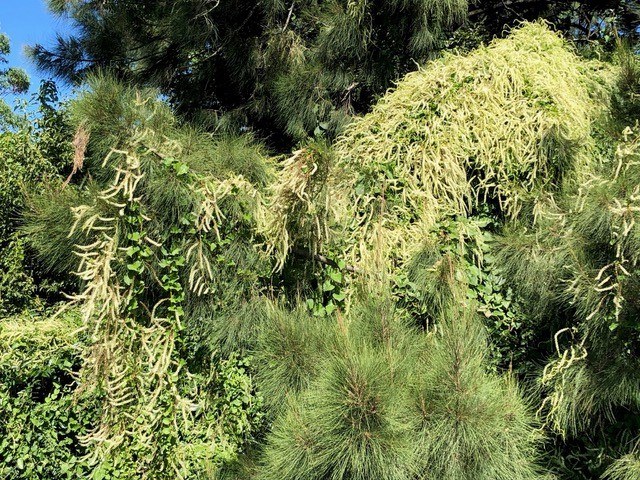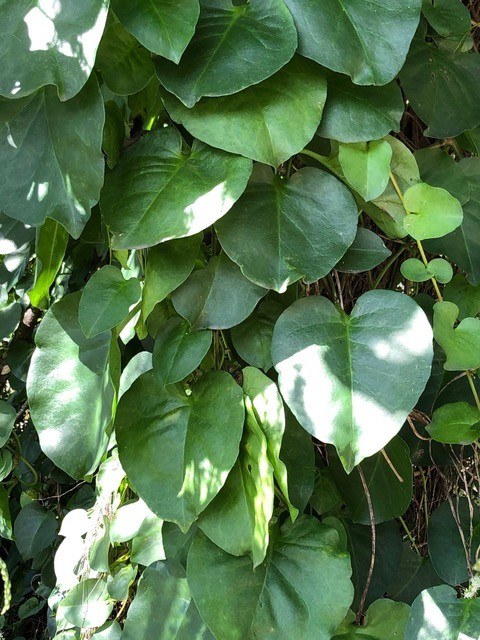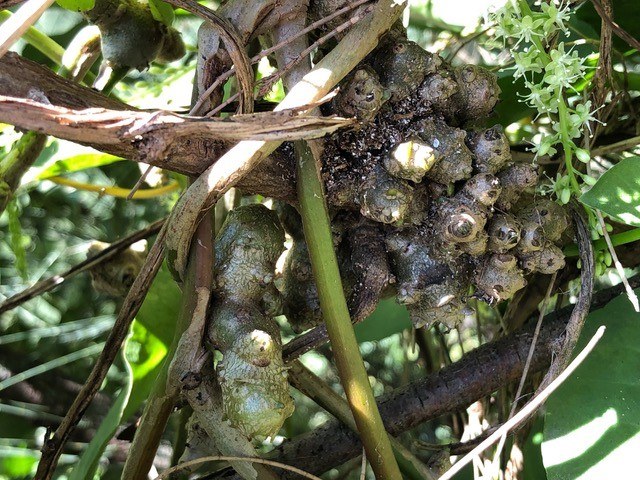 Herbicide and other control methods:-
 Apart from small plants it is unfortunately not possible to control Madeira Vine without using herbicide, and using herbicide on public (council) lands mostly requires you to hold a Chemcert qualification.  If hand weeding, carefully extract the root and any rhizome, removing and destroying the entire plant.
 The best herbicide for stem scraping is Vigilant which can be purchased in a handy container with an integral brush.  Alternatively, Glyphosate undiluted 360g/l if possible, with a small addition of Brush-Off. However, it is not known if stem scraping kills the tubers attached to the stem, so if possible collect tubers within reach and/or lay down plastic sheeting around the plant to collect tubers that will drop off when the vine dies.
Here is a link to a youtube showing stem scraping: -  https://www.youtube.com/watch?v=4L7GBMF2NU4     
Overspraying
 For spraying of ground cover or over lantana etc. i.e. more than 80% madeira cover and no obvious natives use 2% glyphosate or Starane, or a mixture of brush-off (1.5 grams to 10 litres) and 2% glyphosate. With any glossy weed it is necessary to use a surfactant eg LI700 or detergent to allow the herbicide to penetrate, however surfactants can kill amphibians so must not be used near creek lines etc.  Do not spray except in calm conditions and take care not to inhale the spray drift. Read the instructions on all labels before use.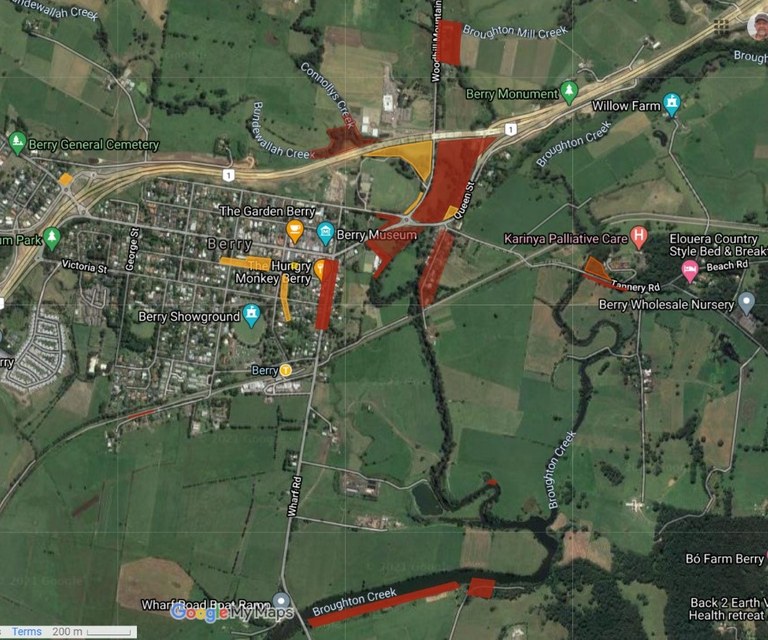 NSW Government material:  https://weeds.dpi.nsw.gov.au/Weeds/MadeiraVine
Madeira vine – Anredera cordifolia:  Madeira vine is a Class 2 Regionally Prohibited Weed that must be reported to your local council weeds officer or to the NSW Invasive Plants & Animals Enquiry Line 1800 680 244.  
Non-chemical options: Small seedlings and tubers can be manually removed, bagged and disposed in the red bin or burned.
| | | | |
| --- | --- | --- | --- |
| | Chemical and Concentration | Rate | Comments |
| | Fluroxypyr 333 g/L StaraneTM Advanced | 300 mL in 100 L of water | Apply at times of active growth. Avoid drift on to desirable plants. |
| | Fluroxypyr 200 g/L StaraneTM | 500 mL in 100 L of water | Apply at times of active growth. Avoid drift on to desirable plants. |
| | Picloram 44.7 g/L + Aminopyralid 4.47 g/L Vigilant II® | Undiluted | Cut stump application. Apply a 3–5 mm layer of gel for stems less than 20 mm. Apply 5 mm layer on stems above 20 mm . |
| | Glyphosate 360 g/L Roundup® | Undiluted glyphosate | Stem scraping application. |
| | Glyphosate 360 g/L Roundup® | 100 mL glyphosate per 10 L of water | Spot spray for seedling control. Add a surfactant. |
| | Glyphosate 360 g/L Roundup® | 200 mL glyphosate plus 1.5 g metsulfuron- methyl in 10 L of water | Spot spray for seedling control. |