Sub-regional Muster
Yass Area Network, Hovells Creek & Boorowa Community Landcare Groups Mini Muster
Sub-regional Muster
Yass Area Network, Hovells Creek & Boorowa Community Landcare Groups Mini Muster
Local Links - Stronger Communities
The issue
A meeting of executive committee, interested members and stakeholders from Yass Area Networks, Hovells Creek and Boorowa Community Landcare Groups was designed as part of a broader project of Landcare Support Resources in the South East.
The mini-muster was an opportunity for respective regional Landcare executives to meet, hear from key people in South East Local Land Services and Landcare NSW to discuss management challenges of voluntary community organisations.
What landcare groups are doing well could then be celebrated and shared, creating a pool of resources and potential partnerships across the region.
Local landcare groups identified what was limiting their work and this could feed into training opportunities at a higher regional level.
The solution
Support resources from Landcare in the South East paid for venue hire and catering at the Boorowa Ex-Services Club on 7th December for a meeting to start at 4.00 pm with a dinner break, finishing at 9.00 pm.
There was a total of 20 people attending included 14 volunteer landcare committee members, 1 Landcare NSW Council Member, 1 Landcare coordinator, 2 Local Land Services staff, 1 Local Land Services Board member and 1 representative from Tablelands Farming systems.
Agenda of the muster started with discussion about what landcare groups were doing well and identifying challenges and what resources would be required to implement this improvement.
Main discussion points, key insights, next steps and resources required were summarised for each discussion group and presented by one participant for each group on a 'Harvest sheet'.
The impact
 The key issues identified and discussed on this day were :
- Funding for landcare coordinators
- Partnerships with Local Land Services
- Membership and involvement of youth in landcare
- Big Picture; global warning, building Landcare's profile in the community.
Priorities from this sub-regional gathering will be fed back to regional networks through  the South East Regional Community of Practice, identifying training opportunities and support strategies for these on-ground landcare groups.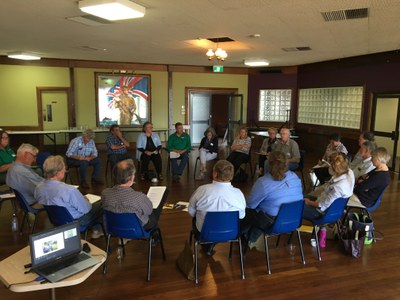 Key facts
Key areas of focus for each group were identified and discussed.
Synergies between groups were recognised.
There was opportunity to exchange contact details for follow up discussions on particular topics.
Project Partners