Buffalo Creek Reserve is located near the Field of Mars Educational Centre and Lane Cove National Park
The shallow waters of the wetland/estuary area provide substantial aquatic bird habitat while the narrow foreshore park is an important link vegetation link and wildlife corridor along the regionally significant Lane Cove River.
The reserve also provides numerous recreational activities with the Great North Walk going through the reserve. There is also a playground and picnic areas.
The Bushcare group work in the southern end of the park, mostly along the Great North Walk. They sometimes work along the Lane Cove River which provides great views.
Details:
The group meets every third Saturday of the month from 2:00pm to 4:00pm.
Please contact Bushcare staff on 9879 9439 as the meeting place is variable.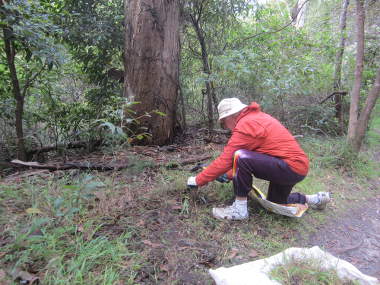 Bush Regeneration in Buffalo Creek Reserve
Download group KML