Castlecove was the name given by Walter Burley Griffin to the most northern of the three Middle Harbour peninsulas on which he purchased land in 1920. The name reflects the prominence of Innisfallen Castle built in 1904 on the south-east point overlooking Middle Harbour. The park was created by dedication and by purchase when Council approved the Deepwater No 6 Subdivision in 1953. The park pavilion is named after Laurence Frederick McGinty MBE (1921-91), local resident activist, Middle Harbour Ward Alderman 1957-68, Mayor 1960-67 and Member of Parliament for Willoughby 1968-78.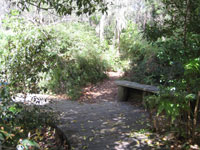 There is a bus stop at Kendall Street which is 500m from the park entrance. Off street parking is available.
A bushcare group meets in the reserve on the first & third Saturday of each month.
Download group KML