Central West Landcare TITAN Macquarie Mud Run
To promote Teamwork, Landcare and to test and build our resilience, a team from the Central West took on the TITAN Macquarie Mud Run
Central West Landcare TITAN Macquarie Mud Run
To promote Teamwork, Landcare and to test and build our resilience, a team from the Central West took on the TITAN Macquarie Mud Run
Stronger Together
-
LLCI007-006

The issue
Because physical and mental health tie in so closely with everything that we do in rural communities, we know that if we can increase our strength in one area, it can have an impact on so many other aspects of our lives, particularly how we react in difficult and challenging situations. 
Central West Lachlan Landcare undertook to promote the importance of good health in 2018 and adopted the tags of #healthypeople #healthycommunities #healthylandscapes. 
In terms of a challenge, the TITAN Macquarie Mud Run Course provided plenty, with 10km of muddy obstacles and water courses. 
The solution
Landcare Coordinator, Marg Applebee co-opted coordinators and friends from the Central West Region to participate in the Central West Landcare TITAN Macquarie Mud Run Team in Dubbo on 24 March with 10 adults participating.
This was an opportunity for the group to work as a team, help each other out, test and build resilience, and one of the benefits was the lead up training to increase fitness and strength, which is part of the overall goal.
Being part of such a well organised event was equally encouraging and this organisation and care makes a huge difference.
The impact
The 10 participants completed the course! Many obstacles weren't possible without by yourself. It was fantastic to see people encouraging and help where needed. 
Our Team had significant differences in physical fitness but everyone persevered to finish the course. An amazing achievement!
Everyone who participated agreed that they would love to do the course again even though for at least the week after the event, nearly every muscle in our bodies ached! What a satisfying problem to have!
Learnings
A well run event is a pleasure to attend.
We are stronger when we work together.
We can do amazing things if we work hard and commit to what we want to achieve.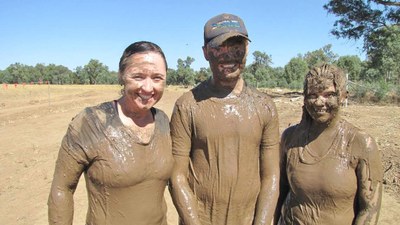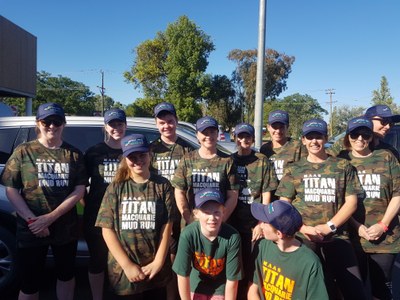 Key facts
Mental and physical health tie so closely together.
In the lead up, participants challenged themselves to increase fitness.
The Central West Landcare TITAN Mud Run Team had 10 adult participants completing a 10km course.
Project Partners