Forbes Schools Celebrate National Tree Day with Landcare
Students from Forbes participated in Schools National Tree Day activities
Forbes Schools Celebrate National Tree Day with Landcare
Students from Forbes participated in Schools National Tree Day activities
Taking Action
-
LLCI007-003

The issue
To engage local schools in Forbes and empower students with the 'hands on' experience of planting a tree, Central West Lachlan Landcare (CWLL) invited students to be involved in Schools National Tree Day planting.
Despite living in a rural area, many children still never have the opportunity within their home environment to plant a tree. Children need to understand the importance of also planting indigenous species to tie in with the conditions of the area, bird and insect species and provide links to existing remnant woodlands.
The solution
The Schools National Tree Day planting day was the second of four days run by CWLL as part of National Tree Day activities.
CWLL paid for bus transport to the planting site on the outskirts of Forbes, from funds allocated to educational purposes. As well as primary students, we were also joined by pre-school students from three Forbes pre-schools. CWLL were successful in applying for funding to provide trees for planting in our local area through the One Tree Per Child program. This was a fantastic way to commence our plantings on site, with approximately 500 students and teachers involved in the day.
We were fortunate to have the assistance of our newly formed Green Army Team who worked on preparing the site for planting. This event would note have been possible without teachers and several volunteers assisted students with their planting. Toyota for sourced our tree guards and Bunnings kindly provided shovels for use with Landcare activities.
The impact
Seeing the children planting 'on mass' was a visual delight!
Excited children left the site with the knowledge and motivation to help start their own planting projects and then are empowered to teach and share with their families and other students.
No class lesson ever replaces getting your hands dirty and seeing your plant in the ground ready to start a new life!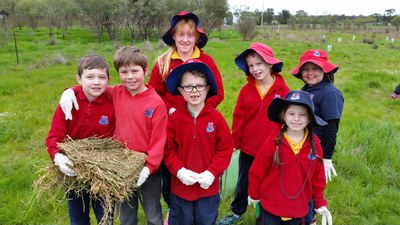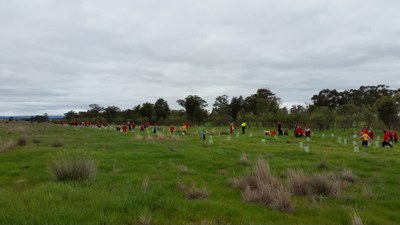 Key facts
Planting your own plant teaches far more than hearing about it in the classroom.
The experience for kids being out in the open and having control over the destiny of their plant is empowering.
Project Partners