Landcare Pink Up Parkes Walk and Wellness Morning
During October 2019, the first Landcare Pink Up Parkes Walk and Wellness morning was held to raise awareness for the McGrath Foundation Breast Care Nurses
Landcare Pink Up Parkes Walk and Wellness Morning
During October 2019, the first Landcare Pink Up Parkes Walk and Wellness morning was held to raise awareness for the McGrath Foundation Breast Care Nurses
Community Participation
-
LP002-001
The issue
With higher than average cases of breast cancer in the Lachlan Region, our communities rely heavily on the services of one McGrath Foundation Breast Care Nurse that covers the Parkes, Forbes and Lachlan areas. 
Many rural women have to travel significant distances for support during a stressful period and the Parkes community saw the opportunity to raise funds and awareness for the McGrath Foundation through running Pink up Parkes campaign during October, encouraging businesses, schools, organisations and individuals to 'go pink' during October to raise awareness and funds for the McGrath Foundation.
The solution
Central West Lachlan Landcare, in partnership with Parkes Shire Council were pleased to be able to run a Walk and Wellness morning, with support from InLink, Edge Environment, Jenz Yogalates, Kerin Physio Co and Sweet Nourishment, highlighting the importance of exercise and good nutrition for physical and mental well-being for prevention and recovery.
After many years of drought impacting the community, it was a wonderful time to come together and support each other, have some fun and talk about Breast Cancer, with most of the community having been impacted directly or indirectly.
The impact
We were overwhelmed with the response from the community with participants in strollers to seniors who kept in stride with the group. 
After a relaxing early morning session of Yogalates, the group assembled at the Elvis Statue in Cooke Park and set off on the 2km walk to PAC Park Waterwise Garden.
The group were met with a delicious breakfast of bacon and eggs, or the option of a delicious granola from Sweet Nourishment, with yoghurt and fruit.
Participants then had the option of participating in a propagation station or physio session with a focus on relaxation.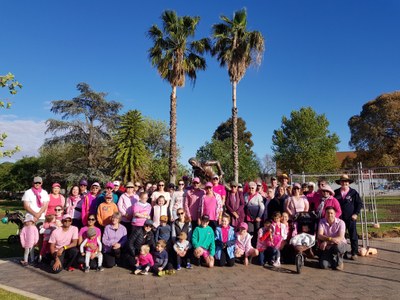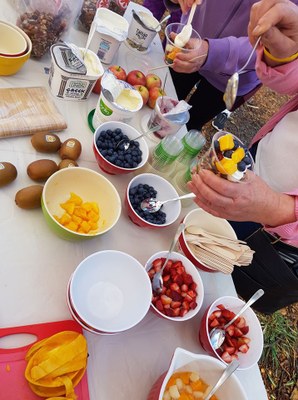 Key facts
Highlighted the importance of health and well-being for prevention and recovery from breast cancer
Raised awareness and funds for the McGrath Foundation Breast Care Nurses
Project Partners