Long Term Landcare Volunteer Recognised as a Hidden Treasure
CWLL Deputy Chairperson recognised as DPI Rural Women's Network Hidden Treasure
Long Term Landcare Volunteer Recognised as a Hidden Treasure
CWLL Deputy Chairperson recognised as DPI Rural Women's Network Hidden Treasure
Local Links - Stronger Communities
-
LLCI007-010

The issue
Central West Lachlan Landcare (CWLL) have been fortunate to benefit from the commitment and dedication of many volunteers, with many of these volunteers playing key roles on our committee.
Margot Jolly resigned as Chairperson at the 2018 Annual General Meeting (AGM), with a vision for the long term viability of Landcare in the Forbes and Parkes Shires and a view to encouraging succession planning.
CWLL felt the need to have Margot's contribution acknowledged beyond the local level and were keen to show their appreciation for her commitment.
The solution
Margot stepped down as Central West Lachlan Landcare (CWLL) Chairperson at the 2018 Annual General Meeting, but stayed on as Deputy Chairperson to assist our incoming Chair. Margot has volunteered and supported Landcare at a local level since 2009, and has also been actively involved at Regional and State levels.
She was also part of the organising committee for the 2011 NSW Landcare and Catchment Management Conference held in Parkes.
Margot has also been heavily involved in the Forbes River Arts Festival and many other organisations.
Margot was nominated for a Department of Primary Industries Hidden Treasure Award in recognition of her selfless voluntary commitment to a large number of community groups in the Parkes and Forbes Shires.
The impact
Margot was recognised as a DPI Rural Women's Network Hidden Treasure and presented with her certificate by Member for Orange Philip Donato in January 2019.
Nine of the 46 women recognised with awards during 2018 were from the Central West.
The Award acknowledges the wonderful work that is being undertaken within our communities, with the many women contributing at this level, doing so because they are driven by a passion for community and a willingness to give up their time to encourage others and make our rural communities a fabulous place to live in.
This Award also draws attention to the opportunities for community involvement in a voluntary role.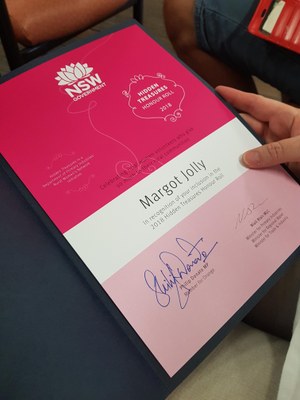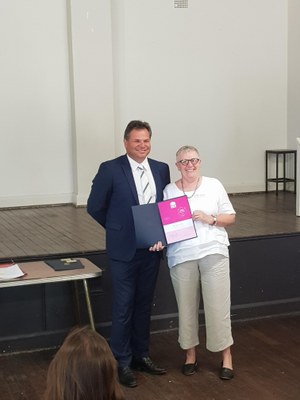 Key facts
Landcare is heavily reliant on volunteers for small and large projects.
The Landcare Committee is made up of committed volunteers.
Project Partners