Future Proof Your Business
A 4 part online series with Paul Ryan from The Australian Resilience Centre.
Future Proof Your Business
A 4 part online series with Paul Ryan from The Australian Resilience Centre.
Collaborations
-
LP002-R003
The issue
The ongoing dry spell that the State experienced during the past 3 years, has had a major impact on farming, the community, businesses, people's mental well-being and their financial health. Both the Central Tablelands and the Central West RLCs and RALFs saw an opportunity to hold a series of 4 webinars online. Resilience expert, Paul Ryan was contracted to examine potential strategies on how to better cope, respond and make decisions during times of prolonged stress.
The solution
The two regions pooled funds, came up with ideas and utilised their skills to create the 4 webinars over an 8 week period. Each webinar was facilitated by a different member of the team. The team consisted of Mel Kiel, Central West Regional Landcare Coordinator, Rohan Leach, Central West Regional Agricultural Landcare Facilitator, Liz Davis, Central Tablelands Regional Agricultural Landcare Facilitator and Sharon Cunial, Central Tablelands Regional Landcare Coordinator. The team member allocated to the session was responsible for sending reminders, webinar notes and webinar links.
The impact
The events were really popular, evidenced by great attendance. Terrific and enlightening conversations were a highlight of the series. Over 94 people tuned in live to the webinars and to-date there have been 254 YouTube views to the series. Participants were particularly interested in hearing targeted case studies on farmers who DID make good decisions, how they felt and what prompted them to act early. We are now in the planning stages for a follow-up series to delve more deeply into farmers who were at the forefront of good decision making. Given our changing climate, it's vital that we learn from those who have not only managed to survive, but thrive despite these devastating conditions.
Learnings
* Make sure each team member has good internet connectivity;
* After several connection issues from both the team member or the presenter we recorded the last session to avoid technological difficulties;
* Farmers are keen to learn from their peers. They want to hear their stories and how to implement best practice. They do not always want to hear from a presenter. Hearing directly from their peers is very powerful.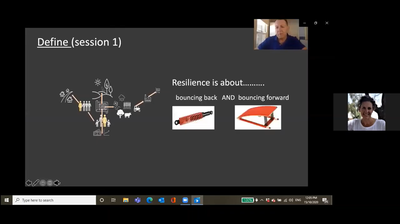 Key facts
Resilience is not only about bouncing back from stress but how to bounce forward.
Project Partners