Social Media Strategies
Social Media training in the Central West during COVID19 restrictions
Social Media Strategies
Social Media training in the Central West during COVID19 restrictions
Capacity to Deliver
-
LP002-R002
The issue
With the ever increasing presence of Social Media creeping into our work lives from every angle, whether it be Twitter, Instagram, YouTube or Face Book, engaging a professional was crucial to teach us the tips and techniques of behind the scenes in the world of Face Book, to give our pages a positive presence online.
Each Landcare coordinator in the Central West region has an active FB page - keeping it current, interesting and valid proves to be an going chore. As the RLC, I was keen to provide training to the coordinators that was of ongoing value to their group using RCoP funding.
To create greater financial efficiencies we offered the training modules to our friends at Central Tablelands Landcare network who joined in, which opened up an offer from the CW and CT RALF's to cover the costs of the training, allowing the 2 regions to capitalise on funds and resources.
The solution
I contracted Ashley Boston from Unleash media who is a Face Book strategist. At the time it was smack bang in the middle of lock down with COVID 19 restrictions in place so a face to face session was out of the question. I spoke with Ash and we decided to go with 2 x pre-recorded sessions over 2 weeks. Being pre-recorded it allowed flexibility for each coordinator to view over a 3 day period at their own pace before meeting via a live FB stream where Ash answered over 30 questions from the first session. The second session ran in week 2 and again a LIVE Q&A was held.
The topics covered included: FB Business page navigation // Understanding your Business page insights // Creating content on CANVA and Headliner // scheduling posts with creator studio // updating cover and profile pictures using CANVA // creating videos, using captions, uploading // using hashtags on FB and IG.
The impact
The information Ash provided was relevant, easy to follow through the step by step videos, timely & highly valuable. Those that took part have made changes to their pages using external apps like CANVA and Headliner, the content posted is directed to their audience and we now know how to read the performance of our posts, who we are reaching, at what times of day is most beneficial to post and recording the post engagement.
This type of upskilling allows Landcare to reach a broader audience, engage with them, share information relevant to their area/region, showcase positive environmental & community stories, create collaborations and utilise the event features for attracting people to upcoming workshops or publications.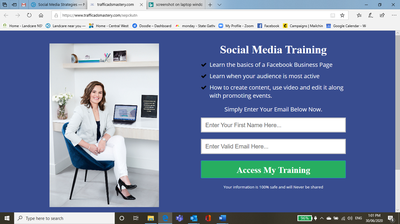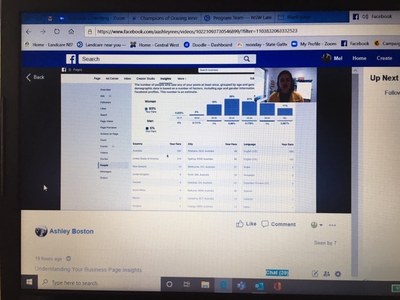 Key facts
Online training can be just as effective as face to face.
Flexible delivery times allowed for greater uptake
Allowing a Live Q&A was highly effective.
Do not underestimate the power of your posts when done correctly.
Project Partners