Collingwood Street is the newest Bushcare Group in Hunters Hill
It is situated in a lovely location adjacent to Woolwich baths. This is a small reserve that was initially over run with mostly Morning Glory and Lantana and not many native plants.
Most of the initial heavy work has now been completed with mainly herbaceous weeds remaining. The first planting of natives plants has been carried out, with a plan to put in a lot more. There is also some natural regeneration happening with some native groundcovers making an appearance.
Details:
The group meets every second Sunday of the month from 9:00am to 11:00am
The meeting place is at the end of Collingwood Street, Woolwich.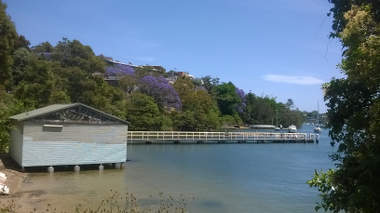 A view of Collingwood Street Reserve
Download group KML