Goulburn Mulwaree Community Sustainability Hub
The Community Sustainability Hub for Goulburn Mulwaree is designed to bring the community together and give it agency that will enable it to respond readily to changing conditions. The three key considerations of the Hub are the health of the environment, economy and community.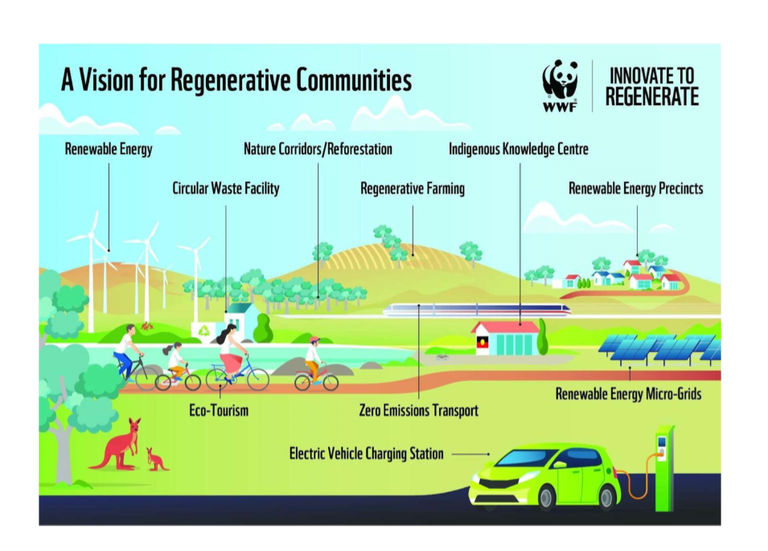 Details of the Building and the Running of the Community Sustainability Hub
The Goulburn Mulwaree Community Sustainability Hub, the Hub, is seen as the start of a number of such Hubs across the electorate of Hume and beyond. One objective is to share resources and knowledge that will create interlinked communities as part of the Resource Based Economies (RBE). 
This Hub initiative supports:-
The Resource/Circular Based Economy
the WWF's Vision of Regenerative Communities
the Canberra Region Joint Region's Blueprint for a Resilient SE NSW 
ZeroSE and its affiliated community groups across SE NSW
The work is informed and guided by the One Planet Council's Framework defined below and by the annual  emissions snapshot data published by Ironbark Sustainability at the LGA, State and Electorate levels.
The timely establishment of the Hub will position Goulburn Mulwaree to realise the associated community benefits. 
The CSH is planned to generate revenue to fund its projects in a number of ways:-
Membership fees from individuals and Businesses
Selling services
Revenue from education services and conferences
Revenue from Solar and Windfarms
The Hub is intended to comprise the following stakeholder with the Community at its centre:-
First Nations Representative
Community Groups
Landcare
Farmers, represented by Landcare
Health Services
Charities
The Council
Chamber of Commerce/Local Businesses
Sporting Clubs
Emergency Services
Environmental Groups
Performing arts Groups
One Planet Council Sustainability Framework Categories
Health and Happiness
Equity and Local Economy
Culture and Community
Landuse and Wildlife
Sustainable Water
Local and Sustainable Food
Sustainable Materials
Sustainable Transport
Zero Waste
Zero Emissions
Additionally - Soil Health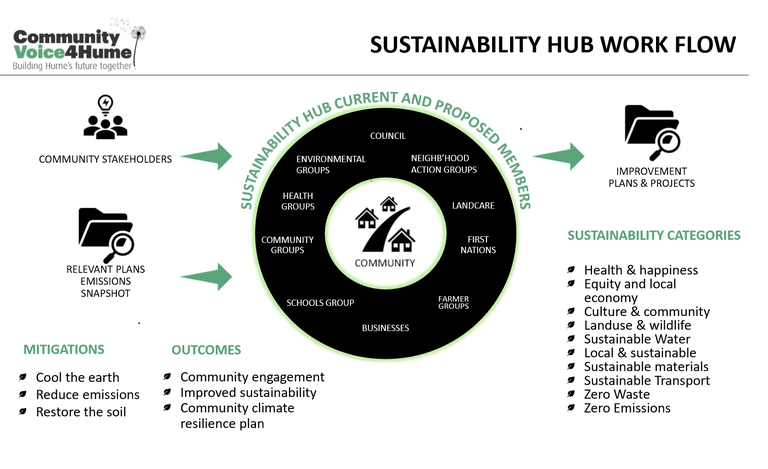 Hub Functions
To Help Drive The Transition To The Resource Based Economy  
To address disadvantage in the community to improve equality
To generate revenue to support its operational activities, starting with revenue from Landcare's Farming Landscape Sustainable Sustainability Conference and Expo
To mobilise the community support through the planned Neighbourhood Action Groups (NAGs)
To drive sustainability improvements leading to community regeneration
To provide, either directly or indirectly, expertise in each of the One Planet Council Sustainability Framework categories
To determine improvement priorities and targets
To facilitate community input and reporting  
To find funding for the significant projects that are designed to be self-sustaining, eg community energy, renewable energy precincts, from ZeroSE
To define and monitor local supplier's sustainability accreditation standards
To liaise with other LGAs in SE NSW through ZeroSE
To liaise with State and Federal Government projects, such as the NSW Department of Planning, Industry and Environment's "Blueprint for a Resilient SE NSW"
To support the expansion of community groups delivering sustainability activities, eg Community Gardens
To organise training and examples of how to undertake sustainability initiatives such as making a sustainable garden
Relevant Plans, Emissions Snapshot and Existing Projects
Goulburn Mulwaree Council's Regional Community Strategic Plan and Towards 2042 project
Goulburn Mulwaree Council's Social Sustainability Plan
Goulburn Mulwaree Council's Climate Change Assessment and Adaptation Planning Report
NSW Department of Planning, Industry and Environment's Blueprint for a Resilient SE NSW
Emissions Snapshot for Goulburn Mulwaree LGA from Ironbark Sustainability and Beyond Zero Emissions
Existing programs such as Building Hume's Future Together from Community Voice For Hume
Resource Based Economy - See https://tupa.gtk.fi/raportti/arkisto/3_2021.pdf
Hub Suggested Membership
Community Voice 4 Hume and other community groups across Goulburn Mulwaree who are working in the area of community sustainability
Goulburn Mulwaree Council - discussions in progress
Chamber of Commerce - early stage discussions in progress but also going direct to businesses
Representative from Health Services
Representative from Schools 
Representative of most appropriate First Nations Group 
Landcare Goulburn Mulwaree
Performing Arts Groups
Hub Deliverables
Community Climate Resilience Plan
Mobilised and informed community
Sustainability Projects starting with one across Run-O-Waters
Regular sustainability events
Hub Objectives
For Goulburn Mulwaree to take a leadership role in SE NSW in the development of a regenerative  community. Its objectives include:-

work to improve social sustainability 
Connect and be a part of the Resource Based Economy (RBE) and to capitalise on new opportunities, such through a technology hub/precint 
to improve building efficiencies, starting with Aged Pensioners
To improve our human capital
to achieve carbon negative, in particular through carbon sequestration from better use of agricultural land 
to set up a Renewable Energy Hub
to be sufficient in food and to be a supplier of clean/organic food high on nutritional value
to be a leader in SE NSW in Regenerative Agriculture and associated education
to have the best schools
to be able to retain school leavers in the community by having suitable education opportunities and career paths
to have a clean atmosphere quiet streets with cool public areas and private gardens
to prepare its citizens for the impacts of climate and pandemics  
to have high quality soils that can hold high levels of moisture and soil organic carbon 
Hub Planned Areas of Expertise 
Community engagement
Regenerative Agriculture and carbon sequestration
Electrify Everything
Garden Sustainability and vegetable growing
Energy efficiency in buildings and dwellings
Social sustainability/equality
Circular economy
Renewable Energy
Reforestation and the restoration of ecological system restoration including riverine
Building carbon in the soil and managing carbon credits
Estimation and Quantification of the benefits of sustainability initiatives
Doughnut Economics 
Implementation Strategy
Start with highest priority activity that requires the least funding and has the most benefit
1. Form a steering committee
2. Input from residents on their community needs
3. Building Social Sustainability with practical projects such as improving home insulation for Aged pensioners 
4. Soil improvement leading to carbon sequestration on agricultural, council and in private gardens 
5. Where possible conduct an assessment of each of the One Planet Council Sustainability Framework, eg to establish the adequacy of council plans to support the sustainability of the community
6. Work with partners in the execution of sustainability initiatives.
Example of the Emissions Reduction and Earth Cooling Opportunities
Carbon Draw down on Farming Land
With the total emissions for Goulburn Mulwaree LGA at some 608,000 tCo2e in the latest (July 2019-2020) LGA snapshot, there is the opportunity through improved Landuse to reduce that by 200,000 tCO2e. This is itemised on the second page of the document as per the following link. 
https://secureservercdn.net/192.169.223.13/v25.8a0.myftpupload.com/wp-content/uploads/2022/03/Goulburn-Mulwaree-Fact-Sheet-v2.0.pdf
In summary the Landuse emissions drawdown requires a change in the use of 1% of agricultural land as follows:-
1. 137,000 tCO2e per annum by preventing the replacement of native pastures by exotic grasses
2. 50,000 tCO2e per annum by retaining existing trees (conservation)
3. 7,300 tCO2e per annum by increasing shelter belts on farms
4. 1,600 tCO2e per annum by planting legumes in pastures
5. 400 tCO2e per annum through optimal grazing
The above actions will also cool the ground by the retention of moisture.
Benefits and Opportunities
Environmental benefits:-
moisture retention
soil health 
erosion-proofing
animal well-being
biodiversity
sustained productivity and drought resilience
cooling the ground and around neighbourhoods
Plus
Diversification of on-farm income
On-farm long-term financial dividends and investment in 'natural capital'
Business & job opportunities in carbon drawdown
Conservation
Nature-based/Agri-tourism
Creation of a Community Power Hub 
Outline of the Resource Based Economy (RBE) 
The relationship between the industrial ecosystem and fossil fuels and the mining of minerals is
to be quantified into a more realistic posture.
 It is now recognized that to construct a substitution system for the current fossil fuels powered
infrastructure will require a historically unprecedented supply of metals and raw materials.
 It is recognized that as this new replacement system (CE or RBE) is not yet constructed, recycling
cannot supply those metals and raw materials.
 It is recognized that the mining of minerals is the most practical way of supplying the needed
resources due to required volumes of demand, and also could have a lower ERoEI than recycling.
 Current production rates are not enough. Existing mineral reserves need to be transformed into
producing mines.
 The long term consumption requirements of minerals may exceed global reserves in their current
form.
 More exploration will be required. As all nation states in the world are in a similar predicament,
access to mineral deposits could become more difficult. It may become necessary for Europe to
be explored for mineral deposits.
 It is possible that a European mining frontier will have to be developed, complete with a selfsufficient refining and smelting capacity
Resource Based Economy Requires A Very Fundamental Shift From Current Capitalist and National-Based Systems 
The original concept of the Resource Based Economy is the development of a system over time, where all
resources, technology and services are available to everyone in the human population. This would be
deployed without the use of money, credit, barter, or servitude of any kind, while maintaining basic human
rights like privacy and free speech. For this to be attained, all resources must be declared as the heritage of
all humans in a global context. All resources are defined as existing valuable commodities subject to mining,
and the waste side stream secondary resources. The proposed Resource Balanced Economy is an evolution
of this, which includes a thermodynamical exergy term as a limiting metric to produce a practical system