Composting is for Everyone
Synergies between broad acre and home gardener composters
Composting is for Everyone
Synergies between broad acre and home gardener composters
Local Links - Stronger Communities
-
LLCI008-002
The issue
Farmers, members of the Coonamble Environment Group and the Coonamble Gardening Club had expressed an interest in learning more about composting and compost teas.  Many farmers use a variety of organic and inorganic fertilisers annually on their properties and were looking at the benefits both for the soil and for their hip pocket in using compost and compost teas.
Creating soils that are more alive, more productive and capable of producing healthier food.
The solution
Nicholas Gerhard from Soil by Design was engaged he delivered a detailed 3 hour theory workshop in Coonamble with follow-up practical workshops in Baradine and Bearbong.  Nearly 50 people attended the 3 days of workshops.  The theory covered the benefits of using compost and biological activity in soil to make minerals and nutrients available for plants, and improving soil water-holding capacity, ultimately improving plant growth and resistance to disease.
Beautiful spring weather greeted the participants at the Baradine Central School and Bearbong practical day workshops.  A hands on compost building lead by Nicholas was both informative and fun.  Paricipants learnt about the different types of compost, compost teas and soil tonics, along with their different applications.  A fungally-dominant compost will help the growth of fruit trees, and bacterially-dominant compost is great for gardens, grasses and annual broad acre crops.
Different ingredients will determine the type of compost that is the end result. Nicholas explained that making compost it is like making a lasagne in that it is a layered affair with just the right amount of sauce and water.  Ingredients include animal manures, kitchen scraps, weeds and straw. The compost piles need to be turned after 3 days and re-wet with further turnings every 2-3 days.  This will result in fully usable compost after just 18 days which is amazing.  All of the composts and teas are easily scaleable for use on farm.
The impact
Particapnts braodedned their knowledge and understanding as Nicholas provided the groups with a huge amount of information along with a variety of recipes for teas.  All participants from the days are looking for more information regarding soil health and growing healthier food.  We will provide more workshops covering this topic.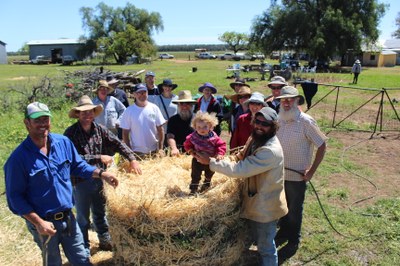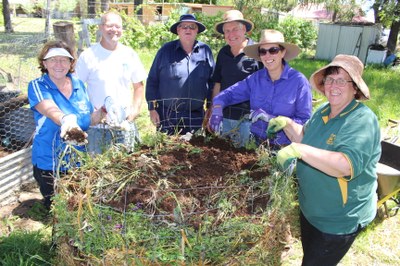 Key facts
3 workshop days - 1 theory 2 practical
approx 50 attendees
Healthy soils, healthy grass, health animals equals healthy people.