Succession Planning
Planning for the long term inter-generational future of the family farm
Succession Planning
Planning for the long term inter-generational future of the family farm
Local Links - Stronger Communities
-
LLCI008-001
The issue
Transferring farming/business assets and management from one generation to the next in a way that strengthens interpersonal and business relationships is a priority issue for many farming families. Unfortunately for many reasons this can be very difficult to achieve. The Coonamble farming and business community identified succession planning as an important issue for the local District. To assist in providing more information and assist in developing capacity about the issue Proagtive (Isobel Knight and Tim Lane) who are succession planning professionals ran a workshop in Coonamble on 9th August 2016.
The solution
Key strategic areas addressed:
What is succession planning and why is it so complex?
What are the business and personal goals of each family member?
What is the purpose of your business?
Understanding the importance of business and finance planning?
Understanding your family dynamics and the intergenerational differences?
Importance of a formal communication strategy
Importance of discussing and planning for retirement
Fomalising roles and responsibilities and reward and pay system
Why we need documented Business Policies
Understanding your business structure – legal and tax implications
Understanding the role of business advisors in the succession process
The impact
36 people signed in & 28 people filled in the evaluation form. 89% of people said that they were likely to do something differently after participating in the workshop.
Succession planning can't happen unless families know what they want to do in the future as all other plans and decisions will hinge off this.
A detailed workbook and Audio CD were given to each participant to use at the workshop and when they returned home.
Participants have ongoing support, if they want to process further with their planning they can work with succession professionals or start to gather background information.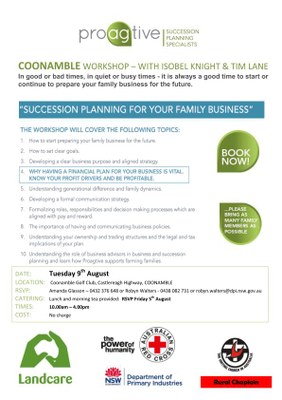 Key facts
Enabled a new partnership to emerge to fund and organise the workshop between Coonamble Landcare, Red Cross, Uniting Church and DPI.
One evaluation comment was about coming to an awareness that other families are in the same situation and that they are not alone.
Family groups were encouraged to attend.
Succession Planning is not about being equal it is about being fair!
Everyone who is part of the family including son and daughter in-laws need to be included in the discussion.
Having a good communication strategy is paramount to succession planning.