Ecology & Cultural Walks
These workshops increased community awareness of the diverse environmental & cultural values of Federation Council's natural reserves
Ecology & Cultural Walks
These workshops increased community awareness of the diverse environmental & cultural values of Federation Council's natural reserves
Community Participation
-
LP019-004
The issue
Within the Federation Council Region, there are a number of public natural reserves that have been identified as having high to very high environmental conservation values. As part of Corowa District Landcare's Memorandum of Understanding (MOU) with Federation Council, Corowa District Landcare (CDL) is assisting the Council in increasing community awareness of the value of these reserves and assisting in their management. 
The solution
In 2020 Corowa District Landcare's Local Landcare Coordinator applied for a Federation Council Community Grant to conduct 4 community workshops.  These were held in 2021, with an expert ecologist to show the value and diversity of local flora & fauna (including threatened species). Local Bangerang representatives were also invited to highlight the Aboriginal cultural significance within the Federation Council reserves. The workshops were of great value and showed community members how they may participate in future management of these reserves and increased their awareness and appreciation of these natural areas, the environment and Aboriginal culture.  The reserves visited for the workshops were: Redlands Flora and Fauna Reserve (Corowa), Victoria Park (Urana), Kyffins Reserve (Mulwala) and Travellers Point (Corowa).
The impact
A total of 70 participants attended the four workshops, which also included attendance by a local primary school to one of the reserves during National Reconciliation Week. These workshops increased community awareness of the diverse environmental values of Federation Council's natural reserves. The workshops also increased Council staff knowledge of local fauna and flora including threatened species & ecological management practices and Aboriginal culture. The workshops encourage community members to engage with nature, which may also raise their social well-being and provided opportunities for volunteering in Landcare.
Environmental impacts - increasing local community awareness and engagement of the natural environment and educating people about ways to protect & improve wildlife habitat and cultural trees in local reserves. Information was shared on native plant, wildlife ecology and their threats, to help empower the community to "make a difference". This increased awareness helps to protect these habitats and increases positive environmental outcomes for Federation Council Natural Reserves.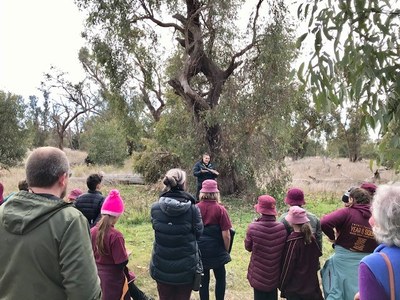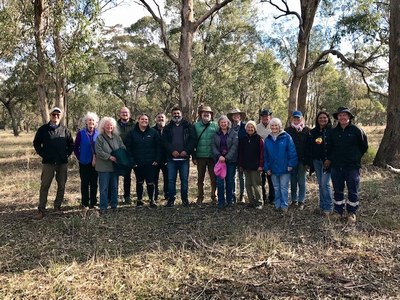 Key facts
Seventy participants attended four workshops
Conservation & management of Council natural reserves
Protecting Aboriginal cultural trees
Community engagement in Landcare
Project Partners