Crab's Beach Landcare Group was formed in 2003 led by Noel and Janice Mathews after local residents became concerned about the state of the environment on Crab's Beach. Noel and Janice have since moved on, but Crab's Beach Landcare group is still going strong.
The group's key objective is maintenance of the dunal system. Crab's Beach 
Landcare Group are proud of their achievements and are consistently praised for
their efforts by visitors to the area. The array of native bird species and other
fauna, such as echidnas, that they
regularly encounter on site
motivates them further to
continue with their valuable
work.
The 2005 Crabs Beach Landcare 
project involved the rehabilitation
of a dune blow-out, construction
of a whale watching platform to
provide an alternative viewing
area for visitors, and provision of
access to the beach that
minimised damage to the dunal
system and the midden site
contained within the dune. The pathway, a Bicentennial project, was also refurbished, an intensive Bitou Bush removal project was undertaken together with replanting of native species, and fencing was erected or replaced to manage access to the beach.

The Crab's Beach project involved the Aboriginal community to ensure a successful project outcome without compromising Aboriginal heritage values.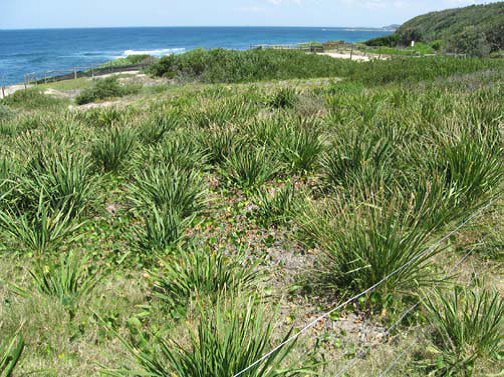 Crabs beach Landcare planted 
Lomandra longifolia in 2005
to stabilise the dunal system.
Download group KML