Dandarrga Native Nursery Opens in Dorrigo
Native propagation, rainforest trees, bush tucker plants, community nursery in Dorrigo
Dandarrga Native Nursery opened on the 11th December 2017 at the Dorrigo Showground nursery facility.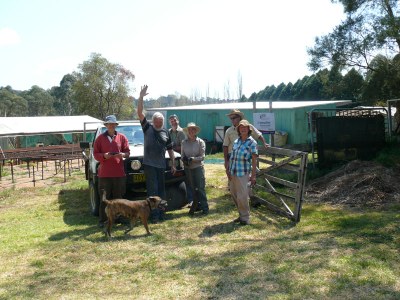 See our latest Species Information for rainforest trees and other native species.
UPDATE JAN 10th 2018
We have established trees ready to plant, and about 15 species under propagation, including bush tucker plants such as Black Apple, Tamarind, Rose Myrtle, Daisy Yam and Sandpaper Fig.
The shadehouse is now completed, and rapidly filling up with tube stock.
Bellingen Council has agreed to fund nursery equipment and supplies from their Environmental Community Levy Fund in 2018. 
We are very grateful for the donations of recycled tubes and trays and other equipment from our local community, and to our local seed collectors for providing seed, both of which have allowed us to begin nursery propagation ahead of the funding.
The Dorrigo Showground Trust has generously donated composting materials from the showground stables.
Our dedicated team of volunteers has also put in many hours in landscaping and maintaining the nursery grounds, setting up irrigation and managing the compost heaps. 
And a special thanks to Barry's Satin Bird, who, while looking at himself in the mirror, collects seed of Blueberry Ash and Brush Muttonwood!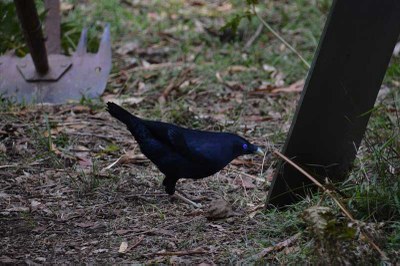 Brush Muttonwood has blue berries, and is a good contender to out-grow the privet that infests the Dorrigo Plateau. We now have about 460 tubed seedlings!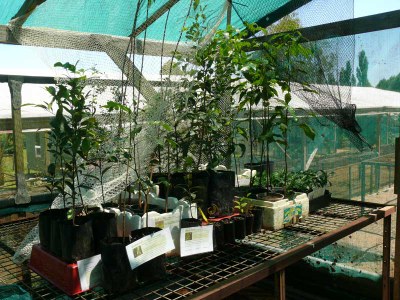 Opening Hours are 9:00 am - 12:30 pm on Monday, Wednesday, Friday and Saturday.
The nursery is run by volunteer members, and provides activities for job seekers and centrelink volunteers to learn about nursery maintenance, propagation skills, composting and local rainforest species.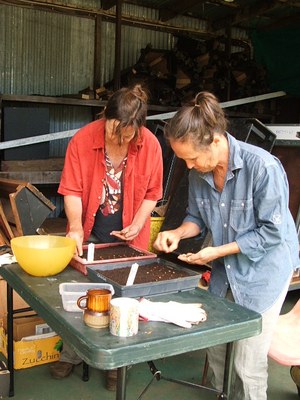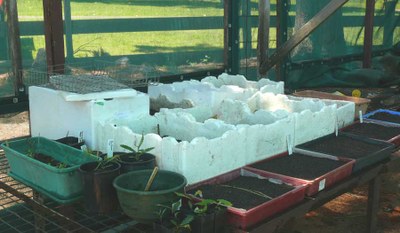 We processed seed of Native Tamarind, Black Plum and Grevillea mimosa, and planted out several pots, tubes and trays of these, plus some banksia that had self-seeded on site. And we sold five trees!
It was a great start! Thanks to all the volunteers 
:)
The nursery reopened on 8th January, and an official opening party is planned for later in the month.