Landscapes of despair Horizons of opportunity
Investigating the management of established weeds in and around Tathra, with particular reference to bushfire recovery
Landscapes of despair Horizons of opportunity
Investigating the management of established weeds in and around Tathra, with particular reference to bushfire recovery
Stronger Together
-
MEEPAAW2-SE-03
The issue
Appropriate and effective responses to weed issues in and adjacent to gardens and private properties. Which weeds are most significant? How can we prioritise? How to go about effectively controlling different kinds of environmental weeds. What are good local endemic gap filling planting choices?
As well as the usual suite of local environmental weeds the March '18 bushfires that ripped through the Tathra area have presented a number of hitherto unseen challenges and opportunities in dealing with weeds and post fire bushland regeneration. 
The solution
Connected with concerned or interested property owners/locals at garden recovery forum.
Property visits to 12 properties/gardens, enabling specific advice and identification to be delivered.
Community workshop and walk with practical demonstration of scenarios and techniques.
Communicate effective solutions to interested parties. e.g what equipment or herbicide needed, timing and method appropriate to different weeds/situautions.
The impact
The transfer of knowledge and information between coastal weeds officer and local property owners on a case by case basis was particularly effective - it enabled residents to gain know how and awarenesses specifically related to their 'patch' but also to know act as repository of knowledge in their area or amongst neighbours.
The workshop was an excellent opportunity to bring together interested or active parties, again to help the community see members are supporting each other and biodiversity with effective, shared responses.
The project also allowed for the community to share knowledge of the presence and extent of priority weeds in the the local area unknown to the 'Coastal weeds and marine debris project'. Some of these occurrences are in reserves and public lands adjacent that can now be acted upon by upcoming project weed passes.
Was good chance to explain and demonstrate ongoing efforts undertaken by local control agencies and Tathra volunteer landcare group.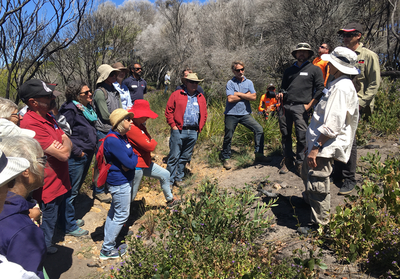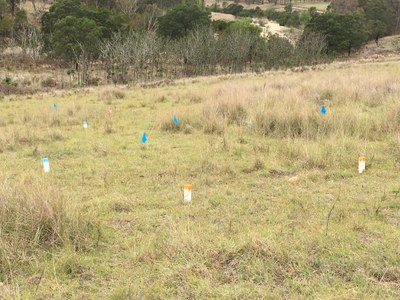 Key facts
12 property visits featuring two way knowledge and information sharing.
Workshop attended by 15 people.
Building good and ongoing relationships between community members and coastal weeds officer/Far South Coast Landcare
Project Partners