Boronia Park is a 24.2 hectare park in Hunter's Hill, situated along the lower reaches of the Lane Cove River. The bushland at Boronia Park is a key feature of the site, with over half of Boronia Park considered bushland. There are three Endangered Ecological Communities within the park which are Sydney Turpentine Ironbark Forest, Estuarine Swamp Oak Forest and Estuarine Saltmarsh.
The objectives of Friends of Boronia Park are as follows: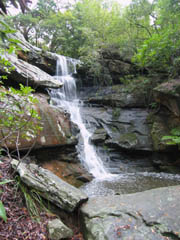 care for all matters affecting the bushland of Boronia Park
resist any attempts to alienate any portion of the Parklands
preserve and promote regeneration of native bushland
eradicate and prevent the spread of exotic growth
cooperate with other organisations having similar objectives
do all such things as are incidental or conducive to the retention of the bushland environment of the Boronia Park area
Details:
The group meets every Third Sunday of the month from 8:30am - 10:30pm.
The meeting place is opposite no. 52 Park Road.
Download group KML