Ferals in Focus
Focusing on feral animal research, control and technology
Ferals in Focus
Focusing on feral animal research, control and technology
Community Participation
The issue
Pest animals have been identified as a major issue for landholders, both public and private, and for the broader community across the Northern Tablelands region, as well as threatening numerous threatened species and endangered ecological communities.  Pests such as rabbits, feral pigs, foxes and wild dogs all have significant impacts on both the natural environment and agricultural production..
The solution
This project delivered two (2) events bringing together both public and private land managers, technical experts and pest animal control practitioners to share their knowledge, skills and experience.  The Ferals in Focus Pest Animal Forum was a face-to-face  event held in May 2019 with thirty (30) participants providing information about the principles of pest animal management, wild dog research and management, pest animal monitoring tools, current research focused on feral cats and wild pigs and the implications of the Biosecurity Act.  Evaluation of the event indicated that all participants increased their knowledge of invasive species management and their confidence to undertake invasive species management activities.
The "Collared" webinar was presented as an on-line event due to the COVID-19 restrictions in September 2020.  Eighty-eight (88) participants registered for the event presented by Dr Guy Ballard (NSW Department of Primary Industries and University of New England) and Darren Marshall (Southern QLD Landscapes).  Information focused on the results of wild dog research and new research undertaken on feral cats, as well as a feral pig collaring research project being undertaken across the Northern Tablelands and North West of NSW.  Evaluation of the event indicated that all participants rated the webinar presentation very highly, gained increased knowledge about invasive species management and valued the knowledge gained.
The impact
This project engaged 118 participants in building knowledge in invasive species management.  The project activities focussed on control and management of wild dogs, feral pigs, foxes and feral cats.  It focused on current research findings for monitoring and control, as well as the implications for exotic disease spread and responsibilities under the NSW Biosecurity Act.  All of the participants indicated in the evaluation an increase in their knowledge of invasive species management. 
The project was promoted through a number of mechanisms including on-line, local print and radio media and social media.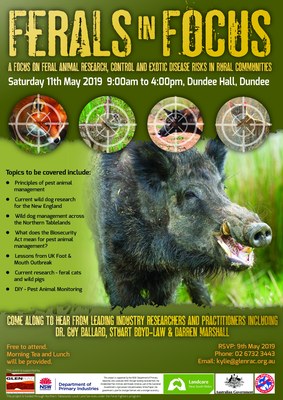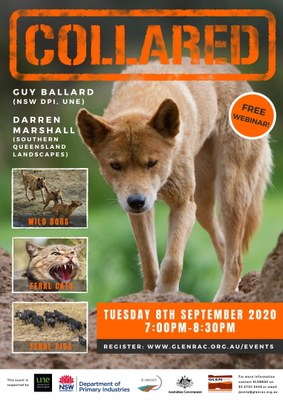 Key facts
30 participants attended the Ferals in Focus event
88 participants registered for the Collared webinar
Participants rated Collared at 9.5/10
Project Partners