GLENRAC named as a Finalist in prestigious Get Ready NSW Community Award
GLENRAC has been named a finalist in the prestigious 2021 NSW Resilient Australia Awards / Get Ready NSW Community Award announced by the Minister for Police and Emergency Services David Elliott and the Commissioner of Resilience NSW Shane Fitzsimmons at an online awards ceremony.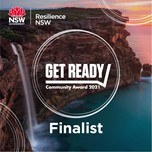 Ian Lockwood, Chair of GLENRAC said "We are honoured to be recognised as a Finalist in these aw ards for our efforts in supporting our community in the response and recovery to natural disasters events over the past few years"
"During these trying times, we've has seen firsthand how locals have come together to collaborate and contribute to the creation of a more resilient community," Ian said.
"GLENRAC's role in bringing together a diverse range of partner organisations to provide services, information, resources and donations was outstanding and we appreciate the contributions of those organisations and individuals who contributed to make a positive difference to the members of our community during times of great adversity."


Minister Elliott said the two awards programs had received a record number of submissions this year and thanked all applicants for supporting their local communities through the challenging year.
"It has been a protracted period of unprecedented emergencies; from drought to bushfire, storm and flood, to a mouse plague and global pandemic," Minister Elliott said.
"There has never been a more important time to celebrate and inspire initiatives that help us better prepare for, respond to and recover from disasters," he said.
"All of our finalists have demonstrated the courage, ingenuity and community spirit that is at the heart of resilient communities. I extend my heartfelt thanks to them and hope they can continue to inspire others to take up the mantle to promote a resilient Australia."
Commissioner Fitzsimmons said moving the awards ceremony online for a second year due to COVID-19 restrictions only emphasised the need to forge ahead and come together in shared admiration for the special efforts made over the past year.
"Over the past few years, communities across NSW and indeed Australia, have shown just how incredibly resilient they are," Commissioner Fitzsimmons said.
"Locals know best what their communities need to help them recover and build resilience, and I'm delighted by the diversity of projects recognised by these awards programs.
"Their efforts, and the efforts of so many others not directly recognised by these award programs, are humbling," he said.