Allendale Landcare Group
Formation of a new Landcare Group in response to bushfire recovery actions
Allendale Landcare Group
Formation of a new Landcare Group in response to bushfire recovery actions
Community Participation
-
LP040-04
The issue
Allendale, a large private property on the northern edge of Blackheath in the Blue Mountains, was impacted across 100% of their bush property during last summer's bushfires. Following the fires, the property then experienced damaging flooding and this resulted in a serious erosion problem. The property owners, the Johnson family, undertook some emergency erosion mediation works with the assistance of Blue Mountains City Council (BMCC). However, one one drainage line remained 100% exposed and more planting was required to stabilise the area.
The solution
Through word of mouth, the Johnson's contacted the Greater Sydney Landcare Network (GSLN) to request FREE trees via the Creating Canopies Program. The GSLN Creating Canopies team soon visited the property and planned for a planting in August.
This had a large impact on the landowners who also showed interest in starting a Landcare Group through GSLN.
The impact
The impact of starting an Allendale Landcare group will mean that the Johnson's won't have to manage their whole property on their own. Landcare provides the insurance for others to visit the property to carry out whatever restoration activity is required.
This group will feasibly have all the benefits associated with being a member of GSLN and, the supervision and tools provided by BMCC.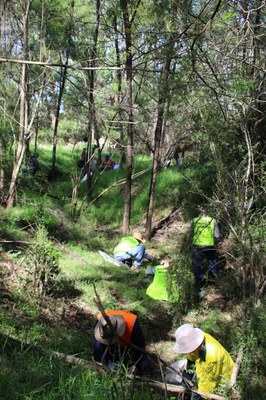 Key facts
Bushfires create enormous challenges for bushland recovery, particularly for individuals managing large properties Destruction, clean up, erosion control and then weed invasion are all a part of post bushfire response! A group of people to help in recovery efforts will make it all much more achievable.