Greater Sydney volunteer numbers on the up
A pulse check of Bushcare and Landcare in Greater Sydney
Greater Sydney volunteer numbers on the up
A pulse check of Bushcare and Landcare in Greater Sydney
Capacity to Deliver
-
LP040-R003
The issue
Greater Sydney is home to a diverse mix of Landcare and Bushcare groups, taking in groups that care for urban and peri-urban landscapes on public and private land. Supporting these many groups is a challenge. An understanding of the trends in volunteer numbers and the health of the groups provides a strong basis for supporting Landcare in the region to thrive.
The solution
The Greater Sydney Regional Landcare Coordinator surveys Landcare and Bushcare Groups in the region every two years. The first survey was done in 2012 and the latest was for the 2019/20 financial year. The survey captures Bushcare programs, Landcare groups and Landcare networks. Data collected ranges from the size of the groups, the numbers of volunteer hours to the health of the groups and the type of support they require. We are able to track trends in volunteer numbers and volunteer hours and with the most recent survey capturing the impact from COVID-19 on on-ground works.
The impact
The survey results for 2019/20 were captured in a short report and shared widely.
The survey results were positive. In 2019/20, nearly 1000 groups were engaged in Bushcare or Landcare activities, with 8850 regular volunteers and 4700 one-off volunteers. In this year, Landcare and Bushcare volunteers contributed more than 150,000 hours of environmental work. This equates to an incredible $6.3 million in in-kind labour costs.
Moreover, local media outlets loved the story with seven online and three print articles published. These articles provided great positive coverage of Landcare and the important work that dedicated environmental volunteers are doing.
Learnings
While volunteer numbers and hours increased from the previous reporting period, the survey did highlight areas that need attention and support. The fraction of groups reporting to be "stable" or "thriving" reduced slightly.
As in previous years' surveys, the critical need for funding to support volunteers and their environmental restoration efforts was reported. The survey results suggest that managing the interplay between funding, manageable workloads and attracting volunteers is an important key to the future of Bushcare and Landcare in the region.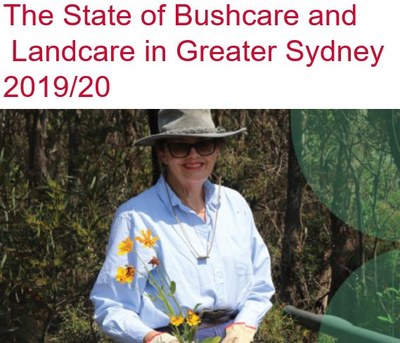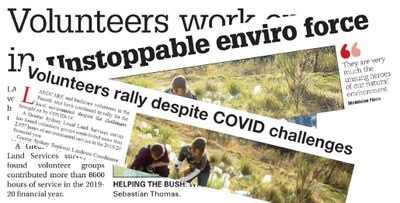 Key facts
A biennial survey of the Landcare and Bushcare groups provides useful information for coordinators and support agencies
The survey was picked up by local media and the positive story reported in 10 different articles
964 groups are engaged in Landcare and Bushcare activities
Volunteers undertook around 150,500 hours of work, equating to $6.3 million in in-kind labour in 2019/20