Reaching out with helping hands
Duty of care and OH&S obligations when managing volunteers – a workshop
Reaching out with helping hands
Duty of care and OH&S obligations when managing volunteers – a workshop
Reaching Out
-
LLCI012-010
The issue
As Landcarers, Bushcarers and hosting land owners, we're eager to engage with a broad range of people for volunteering, brilliant morning teas and positive environmental outcomes. However, many of us are unaware as to our duty of care obligations, and the risks, and their management when operating in these often risky outdoor landscapes.
Following our member survey, GSLN identified that safety and volunteer management was a notable gap in the Greater Sydney Landcare community.  An older, diverse workforce often with remote sole workers and ad-hoc member and volunteer management exposes the group to physical and liability risk. Many groups lack the skills, experience and a cohesive framework to address these challenges.
The solution
GSLN engaged with Conservation Volunteers Australia, a registered training organisation to host their popular 'In Safe Hands' (ISH) training workshop. This four-hour workshop covered the use of the ISH training manual, duty of care obligations and risk management and mitigation, coupled with in-depth discussion and management of a diverse volunteering workforce.
Landcarers, Bushcarers and Bushcare Officers from a diverse range of ages across the Sydney, Blue Mountains and upper Hawkesbury regions, together with local land owners joined us for this comprehensive Saturday morning workshop, tailed specifically for the Landcaring community at Windsor Central Library.
The impact
Volunteers left with the skills, experience and knowledge to safely manage their volunteers. Participants were keen to pass on the knowledge throughout their network, and regularly engage with the booklet provided by the workshop.
We're planning future workshops in First Aid (Allens Training), Creating Confident Committees (Landcare NSW) and plant identification – all free for our members. It's just another service we provide for the Greater Sydney Landcare community, supporting and equipping volunteers to continue to do their good boots-on-the-ground work.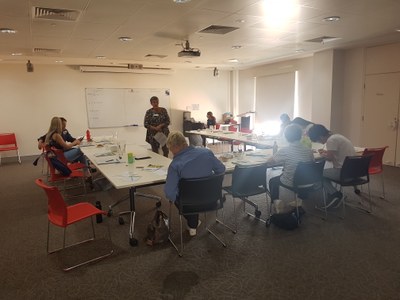 Key facts
More than 92 keen enquiries to attend the course.
8 attendees selected from Landcare, Bushcare officers, land owners, community gardeners and private land managers.
Participants attended from across the Cumberland Plain (western Sydney), lower Blue Mountains, Sutherland (eastern suburbs coastal Sydney) and urbanised Parramatta.
Project Partners