The online pivot - productive partnerships moves to Facebook
Self-paced online learning coming close to a face-to-face workshop
The online pivot - productive partnerships moves to Facebook
Self-paced online learning coming close to a face-to-face workshop
Community Participation
-
LP040-R005

The issue
Valuable learnings that come out of face-to-face workshops are always accompanied by the benefits of meeting and networking with like-minded Landcarers. When we needed to move the Greater Sydney Landcare Community of Practice training online, we wanted to keep as much of that networking experience alive while also delivering useful content.
The solution
Our trainer, Kim Boswell, suggested moving the training to a private pop-up Facebook group that would be active and open for a month. Kim poured her creative juices into developing and adapting workshop content to fit this new format. Forty-three people with a range of attitudes and enthusiasm towards Facebook signed up for the month-long journey.
The month was kicked off with a Zoom session and content was delivered gradually. Each week had a thematic focus and Kim created a #FridayWrapUp each week. As well as posting content, Kim encouraged participants to question, comment and upload tasks. Kim created video interviews with Landcarers from Greater Sydney and we had a Facebook Live event with Landcare Australia.
The impact
Most participants were either very satisfied or satisfied with the experience and took away something useful to try with their Landcare or Bushcare group. About one quarter rated the experience as neutral.
In general most people were comfortable learning in the Facebook space. It was interesting to see the different ways of engaging in the group. Those using Facebook regularly, engaged with the group when they received notifications in their Facebook feed while others waited and logged in for the #FridayWrapUp. There were a number of participants engaging with the content but not interacting through comments, questions or uploading tasks in the group. Finding and making time to engage with the group was a common challenge.
Learnings
A purely online training environment does not replace the value we get from meeting and learning together in the flesh. However, when this isn't possible (e.g. in the midst of a global pandemic) there are options to create fun and interactive online workshops. Mixing up the mediums to include video calls, recorded interviews, Facebook Live and online discussion forums is a way of making online learning as inclusive and interactive as possible.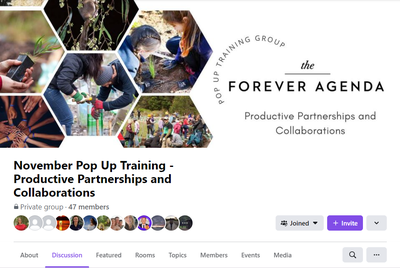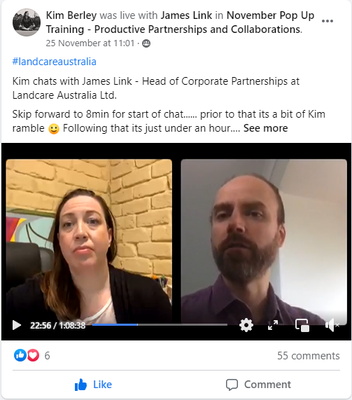 Key facts
Make online learning as interactive and inclusive as possible
Facebook as an online learning platform has plenty of potential
We all need a dose of face-to-face as well