Upcoming AGM and Special Event reminder
A reminder that our annual AGM and Special Event is on this Sunday, the 23rd of September at Sydney Olympic Park
A reminder to our readers and members that our annual AGM and Special Event is on next weekend, Sunday the 23rd of September 2018 from 10:00m to 3:30pm. The day will include a tour of the Old Brick Pit and Powells Creek rehabilitation areas at Sydney Olympic Park. Both of these locations are excellent examples of how restorative practices and naturalisation of urban landscapes can provide valuable habitat for critically threatened species, biomes and urban wildlife.
Members are also welcome to nominate for committee roles, provide valuable feedback and discuss the recent changes to the Crown Lands Act (NSW), and the implications this may have for volunteer urban landcare and bushcare groups in Greater Sydney. 

RSVP on Eventbrite and be sure to follow the event on Facebook. The event is family friendly, fully catered and free.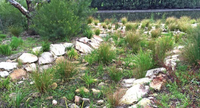 Image by Sydney Water (2018), available here.