Engaging young people with sustainability
Gunning District Landcare has offered a popular and successful program of School Holiday Activities since 2017
Engaging young people with sustainability
Gunning District Landcare has offered a popular and successful program of School Holiday Activities since 2017
Community Participation
-
LP030-001
The issue
Landcare activities have traditionally been targeted at adult landholders. However, young people - whether they live on farms or in towns - are a vital part of our community. Young people can be an important conduit of information to their families, and they will shape the future of our region's environment and community. Young people are also often naturally engaged with issues related to sustainability. 
The solution
In late 2017, Gunning District Landcare (GDL) launched a School Holiday Program in order to engage young people in our region. For the first event, Committee member Janet Heffernan and then Coordinator Ruth Aveyard, arranged a successful session on bird watching. In every school holiday since then, GDL has offered an activity for school-aged children.
Initially the program was supported with funds from the Community, Industry and Landscape program. Over the past year, funds from a local wind farm, ACCIONA, have paid for presenters, catering and materials while the NSW Landcare Program has supported GDL's Coordinator's time. 
The School Holiday Program is now run in partnership with Upper Lachlan Landcare. The sessions are usually held at the Crookwell and Gunning Libraries on the same day, and involve a presenter working with children in hands-on learning. 
Over the past twelve months activities have included 'Our Brilliant Bees' where children learnt about native and exotic bees before making their own bee hotels and seed bombs; a 'Healthy Waterways' activity where children learnt how to test water and sample for waterbugs in Meadow Creek; a live reptile display; and an online event about wind energy and threatened species.  
The impact
The School Holiday Program is very popular and has become one of GDL's main projects. It has engaged children in learning about their local natural environment. It has also built, and strengthened, connections between people in the community, between GDL and Upper Lachlan Landcare, and with with a range of regional presenters.  
Learnings
Overall the program is a great success. The problem has been finding funders who will cover Coordinator time - wind farms etc generally do not want to do this.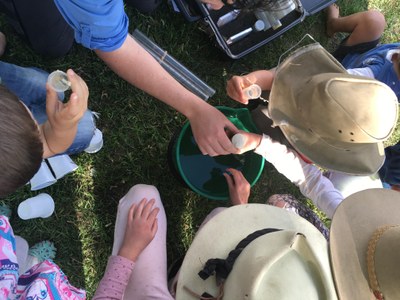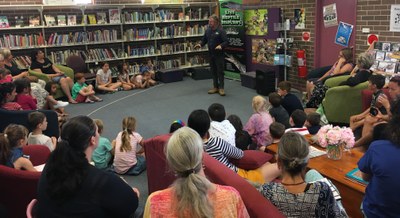 Key facts
GDL has offered popular School Holiday Activities for young people since 2017
The activities provide an opportunity for children to engage with hands-on learning about issues related to their local environment and sustainability
GDL now partners with Upper Lachlan Landcare in the delivery of these activities
These activities are currently supported by funds from the NSW Landcare Program as well as a range of other funding sources
Project Partners