Working Together – Stronger Communities
New Landcare Group forms due to community demand
Working Together – Stronger Communities
New Landcare Group forms due to community demand
Capacity to Deliver
-
LP-022-052
The issue
The need for a Landcare group on the Laurieton river foreshore was clear to local residents and business owners due to the large number of trees dying due to Ipomea and the yellow flowers of winter Senna being so evident in the area. Small pockets of littoral rainforest, an endangered vegetation community, were being overcome by weeds.
The solution
A community meeting was held at LUSC to discuss the weed issues in the area and a new Landcare group formed with the help of Laurieton United Services Club (LUSC) , Hastings Landcare and Port Macquarie Hastings Council (PMHC). The group has been working to learn the various weed species in the area and have removed weeds from two patches of littoral rainforest between Apex Park and the Laurieton swimming pool. A community working bee is being organized to do a mass "Ipomea haircut day" along the foreshore in July with LUSC providing a BBQ to celebrate the good work on the day.
The impact
Volunteers learnt weed identification skills
Community engagement
Native trees released from exotic vines
Weeds controlled
Community working day organized for July with support of LUSC, Hastings Landcare and PMHC
Learnings
Support from local business available to meet their sustainability goals.
Landcare groups are a great way to meet likeminded people and connect with community.
Landcare groups can make a substantial difference to local environmental issues.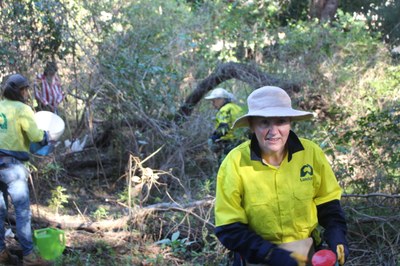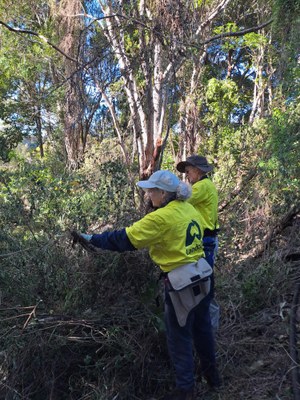 Key facts
• 11,792 m squared of littoral rainforest worked
• 18 Volunteers engaged
• CSIRO biocontrol leaf smut planted to control Wandering trad
• Relationships built between community, local business, Hastings Landcare and PMHC