Fishers roll up their sleeves for landcare
Partnering with Ozfish and Penrith City Council to engage local fishing chapter in fish habitat restoration and boost a local council bushcare group
Fishers roll up their sleeves for landcare
Partnering with Ozfish and Penrith City Council to engage local fishing chapter in fish habitat restoration and boost a local council bushcare group
Collaborations
-
LP042-004
The issue
A local Landcare group needed a boost after many years of consistent work to restore School House Creek, a tributary to Mulgoa Creek and the Nepean River. The Penrith City Council Bushcare group works on the reserve but doesn't have the time nor resources to improve the creek bank which is overrun with weeds and has been modified to be mown lawn. A healthy creek line would provide better habitat for young fish thereby supporting the local OzFish (recreational) fishing chapter. With rivers and creeks being modified across the Penrith LGA and catchment, improving riparian habitat is also a priority for OzFish.
The solution
OzFish was offering a small grant of $5000 to restore fish habitat and provide opportunities for their local chapter members to participate in on-ground restoration activities. The LLC's identified School House Creek to have suitable site(s) that would address the above-mentioned issues and continue their ongoing work with Council to support Bushcare and increase landcare engagement. The grant covered the costs of resources and staff for two planting days, weed removal, an ecologist talk, Streamwatch and water bug day plus equipment. Both OzFish and Council provided equipment, staff and promotion and assisted with organising events held at the Bushcare site. HNLN managed the grant and provided in-kind organisation, labour and promotion.
The impact
The project was an excellent boost for the Bushcare group - it widened the riparian vegetation at the reserve and increased vegetation on private property downstream, which in the long term will reduce erosion and increase fish habitat throughout the creek. A total of 23 new people attended events contributing over 300 hours to riparian restoration. The project successfully increased engagement with the Hawkesbury-Nepean OzFish chapter members and new residents who participated in on-ground works with Council Bushcare and Landcare and this hopefully means that volunteer numbers will increase long-term. Educational activities at each event helped people recognise the importance of small reserves like School House Creek Reserve. Through the project the LLC also connected Penrith City Council to Creating Canopies funding and met other landholders interested in Landcare in Penrith.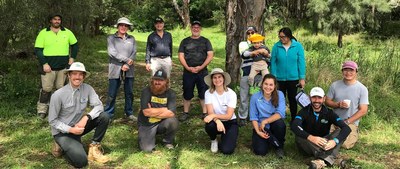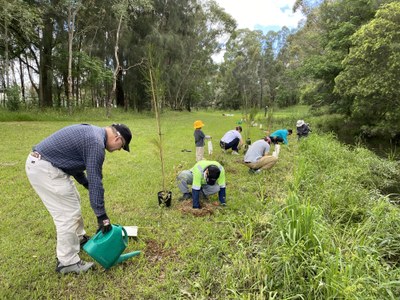 Key facts
Small projects can have great outcomes to boost existing groups, increase community engagement and channel funding from other sources
23 new volunteers, which with HNLN, Council and Ozfish brought over 300 in-kind hours to the site
410 plants across two properties, plus an additional few hundred from Creating Canopies
Project Partners