The greening of Luskintyre
Newly formed Luskintyre Landcare takes action to green their farms
The greening of Luskintyre
Newly formed Luskintyre Landcare takes action to green their farms
Capacity to Deliver
-
LP038-006
The issue
Landholders in Luskintyre contacted HRLN with interest in starting up a new Landcare group in the area.  They held the inaugural meeting in late 2019 and identified common issues they would like to tackle in the immediate area.  Problems with overgrown weeds on the river banks, gully erosion, control of rabbits and hares causing damage, lack of trees and native vegetation on their farms were highlighted along with the need for increased knowledge of plant species and which approaches to take. They also have interest in regenerative agriculture practices. 
The solution
With help of the Landcare Coordinator, Luskintyre Landcare group identified the first project to focus on- wildlife corridors and wind breaks to create connections across the landscape.  Funding was sourced through the WIRES – Landcare Wildlife Relief and Recovery Grant in 2020 and the first planting took place (after Covid restrictions eased).  Over 1500 plants were selected and planted strategically in a gully area that will connect to the Hunter River.  
Another project was established by partnering with OzFish to restore habitat along the Hunter River.  The first site was selected and in early 2021, a couple of community days carried out to put in 2200 plants on this section of river.   Some of the the river flat key species planted include Lomandra hystrix and Carex appressa to stabilise the bank along with Eucalyptus camaldulensis (River red gum), Casuarina cunninghamiana (River oak), Callistemon sieberi (River bottlebrush).
The third area of focus is running field days about sustainable farming/regenerative agriculture.  A successful filed day was run in early 2020 with Colin Seis, who provided his insights and expertise across a number of properties in the Luskintyre area.  His knowledge of soil improvement through grazing and pasture management is recognised worldwide.  
The impact
To group is on its way to its target of another 4000 paddock trees (shrubs and trees) planted by July this year (2021).  The trees were donated by the Greater Bank as part of their 75 Year celebrations.  Seven property owners (and Landcare members) are taking part in creating wildlife corridors and shelter belts for their farms. The species selection ensures they are building native biodiversity that is endemic to the area with a good mix of trees and shrubs to provide for all ecosystem services from pollinators to mammals.
A custom video was created for the group to convey the great work that the group is undertaking and encourage others to get involved.  The group is growing locally and is continuing to collaborate with other organisations to continue the corridors, river improvement and trial regenerative practices.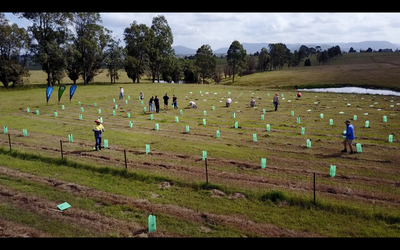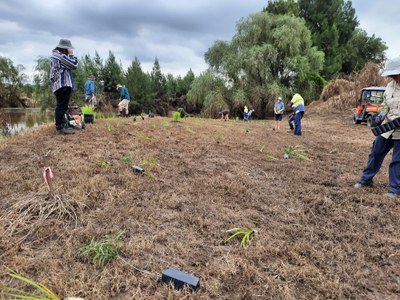 Key facts
Greater Bank, OzFish, Landcare NSW, Wires, Kooragang Volunteers have all been valuable partners and collaborators for making the ongoing projects a success.
Over 7000 plants have been established over a number of properties in 18 months.
The field days have involved the help of over 50 individuals in the Hunter.
The future of the group looks bright.
Project Partners