Wine Country Landcare
Vineyards launch "Hunter Valley Wine Country Landcare' group for greater biodiversity and sustainability.
Wine Country Landcare
Vineyards launch "Hunter Valley Wine Country Landcare' group for greater biodiversity and sustainability.
Collaborations
-
LP037-007
The issue
Grapes are notoriously prone to diseases and pests and therefore conventional practice is to use large quantities of herbicides/pesticides for vineyard cultivation. Several wine growers/makers based in the Hunter Valley, NSW are taking a more sustainable approach to caring for the land in which they live and work.  To enable them to share these values and encourage on-ground action, they have come together to form a Landcare group to: Support proactive measures to manage, protect, enhance and/or conserve biodiversity in the Singleton and Cessnock LGA's; Plan and prepare for future changes in climate through demonstration of sustainable land management practices in vineyards in the Lower Hunter Valley Wine Country area; Engage with the local indigenous community to create a stronger relationship and connection with country;  Engage with and educate the local community about sustainable viticultural management practices and support the development of agri-eco tourism initiatives; Provide an open forum for Landcarers in the Lower Hunter Valley Wine Country area to work collaboratively in pursuit of these aims.
The solution
Before the Landcare group had formed in 2020, Hunter Valley Wine and Tourism Asscn hosted a workshop with NSW Department of Primary Industries and Dr Mary Retallack, Agroecologist, which was Landcare funded. Dr Retallack presented her studies on the important role native insectary plants role in promoting the presence of predatory arthropods (insects and spiders), which contribute to the biological control of vineyard pests.  This was the start of the connection between Landcare and the Viticulturists. Hunter Region Landcare Network (HRLN) facilitated a 'Local Leaders' course with the support of Local Land Services during 2021 in which community members  across several backgrounds and areas of expertise were invited to take part.  One of the participants from a Hunter Valley vineyard took this opportunity to lead the way in forming a Landcare group with other peers in the industry.  From there, HRLN worked with with the new group, taking them through the steps to establish an incorporated association with the name 'Hunter Valley Wine Country Landcare' and plan their first project.
The impact
Since the formation of the group in September 2021, the group has held several meetings and started planning projects to meet their objectives. Two successful plantings have taken place at two vineyards with local native species to increase the biodiversity values at these sites.  At the recent field day as shown in the photo, two native biodiversity planting beds were planted in two hours, offering those that attended an insight to the potential benefits of ecosystem services & habitat they provide for beneficial insects and natural predators to help control Vineyard pests and diseases without the need for harmful chemicals.  More planting days are planned in the coming months to expand on this concept.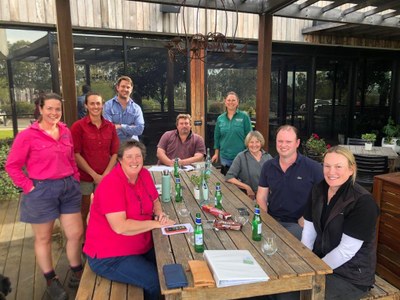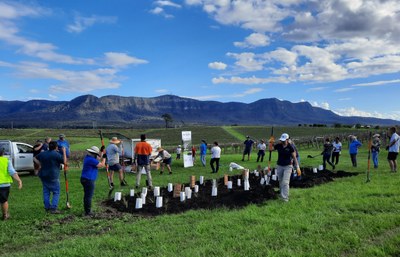 Key facts
22 people attended the biodiversity planting in May 2022 and demonstrated how easy it is when they work together.
Local wine growers are transitioning to more sustainable methods.
Project Partners