School Sustenance Garden
Developing A Garden With Eatables & Promoting Awareness For The Nationally Endangered Small Purple-Pea (Swainsona recta)
School Sustenance Garden
Developing A Garden With Eatables & Promoting Awareness For The Nationally Endangered Small Purple-Pea (Swainsona recta)
Building our Future
-
LLCI011-022
The issue
Students at Lake Cargelligo Central School have been building their vegetable garden in the primary area for a while now. Quickly running out of space, there was a need to transform a new area into a native haven filled with vegetables, herbs and fruit trees. This workshop provided an opportunity to raise awareness of a number of issues including the importance of species conservation and habitat protection and engage students  (and teachers) in plant identification and propagation techniques.  A significant proportion of the school population is indigenous and the Local Aboriginal Land  Corporation is also supportive of  the initiative as it compliments some of their strategic objectives relating to health promotion and  environmental improvements in the region.
The solution
With help from students, both primary and secondary, the unused area behind the canteen was transformed. All hands-on deck, students and teachers transformed this once eyesore space into a useful garden filled with garden beds, fertile soil and loads of plants which in time will provide students with fresh eatable produce. Amongst all other activities students were provided with knowledge on the nationally endangered Small Purple-pea (Swainsona recta) and will be able to identify and implement actions appropriate for its conservation.
The impact
Students were enthused by the idea and excited for the future developments. This space has not only provided students with their own fresh produce, but it also gives a great sense of achievement to those who care for it. The native plants give the area another meaning in the way of teaching the students that we need to protect and preserve our environment and the plants that surround us.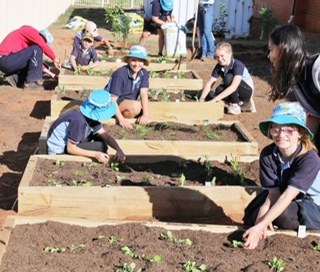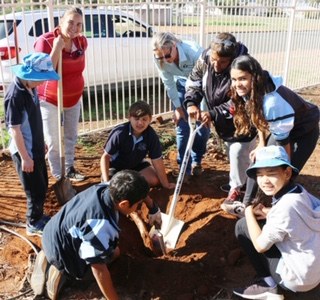 Key facts
Building a garden full of sustenance
All work carried out by students & staff of primary years 4/5/6 & secondary year 7
Vegies & herbs to be used in cooking classes
Fruit to eat everyday
Project Partners