This listing has no current Administrator, if this is your group then contact
Gateway support
to arrange for access.
Koala-ity Care for the Locals
Building community capacity to support koalas on the Liverpool Plains
Koala-ity Care for the Locals
Building community capacity to support koalas on the Liverpool Plains
Taking Action
-
LLCI022-066

The issue
With a declining population due to heatwaves, fragmented habitat and disease, koalas on the Liverpool Plains face a bleak future unless steps can be taken to improve habitat and link remnant vegetation.
The solution
Funding through the National Landcare Program enabled Tamworth Regional Landcare Association (TRLA) to take a dynamic approach to helping care for koalas on the Liverpool Plains. Building community capacity was top of the agenda, with a 'Koala Habitat Field Day' at Curlewis near Gunnedah, aimed at providing landholders with the tools and knowledge to create and maintain koala habitat in their own backyard. The field day brought together 40 community members, landcare volunteers, WIRES carers, government representatives and university researchers.
World-first research presented by the University of Sydney indicated that koala numbers have declined in the Gunnedah area, mainly due to several heatwaves since 2009. This combined with injury and disease means that the population is under threat unless landholders can create and maintain habitat and provide accessible water sources.
One of the most important lessons learned was that a variety of koala-friendly species are essential due to their particular feeding habits and so they have access to shade during hot periods. With challenging conditions facing North West NSW, participants learnt it was crucial to prepare planting sites correctly.
The impact
The field day was a great success with participants walking away with valuable information not only from excellent speakers but from tailored materials including koala-friendly species list and steps to planting trees on farms. And thanks to North West Local Land Services, participants also received koala-friendly trees and guards.
Along with the field day, TRLA supported local landcare volunteers in attending the 'Caring for our Koalas' conference in Port Macquarie, gaining vital and up-to-date research and project information about koala initiatives and projects across the state. This was invaluable in supporting local koala projects on the Liverpool Plains.
Several property owners who attended the field day are now working with the University of Sydney on vital research including GPS monitoring of koalas, disease health checks and chemistry leaf tests to determine water content and nutritional status of eucalyptus leaves. Further, several additional landholders indicated their interest in establishing new corridors on their property and a desire to access grant funding to support this work.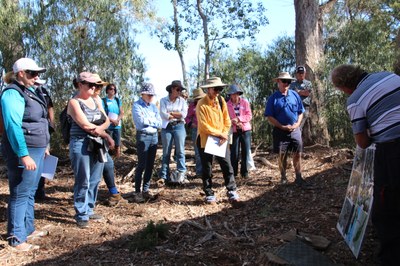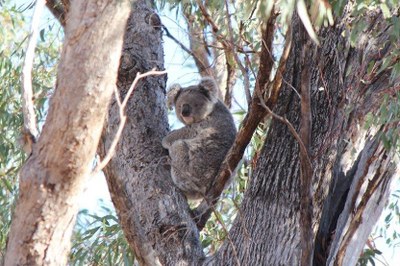 Key facts
40 participants attended a Koala Habitat Field Day at Curlewis on the Liverpool Plains
160 koala-friendly trees were given to participants thanks to North West Local Land Services
Important research continues to ensure the population is being monitored
Project Partners