This listing has no current Administrator, if this is your group then contact
Gateway support
to arrange for access.
Regenerative Agriculture - Cover Cropping
RAINOOO Cover Cropping workshop
Regenerative Agriculture - Cover Cropping
RAINOOO Cover Cropping workshop
Making a Difference
-
LLCI022-062
The issue
Farmers and graziers have found themselves on a treadmill of ever-increasing input costs in fertilisers, herbicides and drenches. This causes returns to drop while soil is depleted of carbon and soil biota. Hence the soils ability to store water and nutrients is diminished. It is essential that farmers find ways of stepping off the treadmill and regenerating their land for themselves, for future generations and ultimately to mitigate the effects of climate change.
The solution
RAINOOO – Regenerative Agriculture Is Now Our Only Option – is a project supported by the NSW Government's Environmental Trust and project partners including the National Landcare Programme, Upper Mooki Landcare, Upper Murray Seeds and North-West Local Land Services.
Presenters at the Cover Cropping workshop held at Warrah Creek included renowned international speaker Gabe Brown from North Dakota, USA, who joined local experts Colin Seis and Dr Christine Jones to inspire and inform around 100 farmers and graziers from the region and beyond.
Speakers focused on the use of cover cropping as a means to rebuild soils, building biomass and in turn stimulating microbes and building soil carbon.
The impact
Landcare has a role in promoting best practice in sustainable and regenerative agriculture. Forums bring together speakers of the highest calibre to provide both scientific rationale and practical examples of success and therefore provide real solutions to farmers. By demonstrating how the carbon content of soils can be increased and the many benefits of achieving even modest increases, farmers can gain an understanding of the practical steps they can take.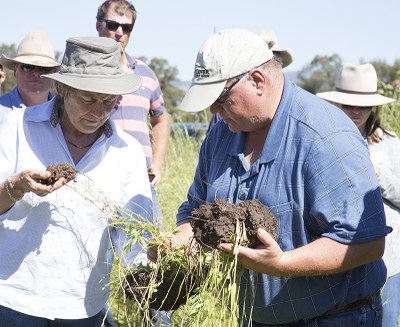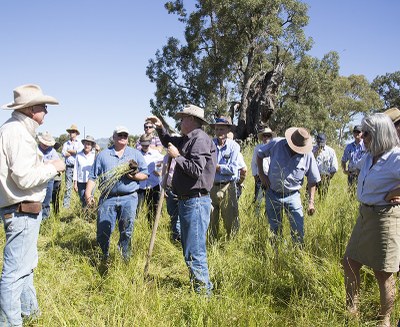 Key facts
Increasing soil carbon increases water-storage capacity of the soils
Increasing soil carbon promotes soil biota and mycorrhizal activity, root development and available nutrient uptake
Sequestering carbon in the soils addresses climate change by removing carbon from the atmosphere and reducing ground temperature through increased water storage
Project Partners