Signs, Plant Labels, Fact sheets for Community Education
Maclean Landcare Group has completed a community education project on Native Species with funding from the NSW North Coast Local Land Services, administered by Clarence Landcare Inc.
The aim of the project is to increase knowledge and understanding in the local community about the value of planting local native species for conserving the biodiversity and sustainability of the natural environment in the lower Clarence Valley.
1. We have installed a sign on the Maclean Lookout Reserve to indicate and describe the conservation and rehabilitation project by MLG Inc.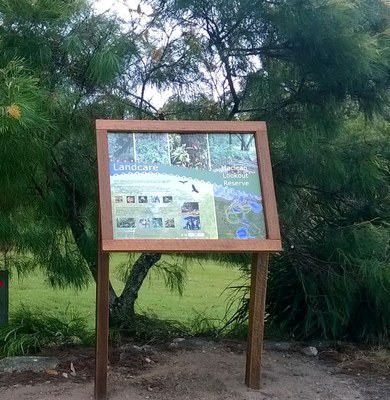 The sign had an unfortunate collision with a car in January 2016. Many thanks to Clarence Valley Council for repair and re-installation!
2. At the Community Nursery, our pots now have Plant Labels for 50 species. We plan to add another 50 species labels in 2016.
3. On the Maclean Lookout Reserve, we have installed 8 small Plant ID signs with a QR code, to identify various trees, shrubs and ground-cover species. A mobile phone app allows visitors to learn more online about each species. Many thanks to Danny Parkin of Clarence Valley Council for the printing, and a big thank you to Pete Turland from Yurayghir Landcare for constructing and installing these signs.
4. We have also researched and compiled a folder of 50 Species Fact sheets for volunteers, customers and community members at the Nursery, and for use when promoting Landcare to assist in sales, promotion, education and distribution of local native plants. You can access the factsheets on this website here - Australian Native Plant Factsheet Index.
UPDATE February 2016
5. Information on another 50 species has now bee developed at Maclean Landcare Group's own expense - 105 small signs for the Community Nursery in Townsend will assist volunteers and the community in learning about local indigenous plants.