Soil – Digging Deeper
Helping landholders learn about Soil Biology
Soil – Digging Deeper
Helping landholders learn about Soil Biology
Capacity to Deliver
-
LP011-026-2
The issue
Following a Soil Biology workshop held in December 2020, many Hay Landholders expressed interest in expanding their knowledge on soil health, strategies to identify the different soil types on their property,  strengths and weaknesses of different soil types, and long-term production potential.
Hay Plains Landcare group wanted to offer landholders a ground-up soil education workshop - from the origin of our local soils, right through to the analysis of soil tests to determine soil health and ultimately understanding the potential remediation opportunities that exist for soil in our region.
Fundamental to the workshop was the belief in balanced soils as a key way to underpin sustainable and profitable businesses.
The solution
Hay Plains Landcare hosted a hands-on 'digging deeper' Soil bootcamp with agricultural ecologist David Hardwick from Soil Land Food.
Participants went through a range of educational and practical exercises. Specifically, participants undertook a practical exercise to assess soil texture, which is fundamental to understanding your soil type. Similarly, exercises were done to analyse soil to determine both the soil's total nutrient baseline capabilities and how to effectively read and analyse this information. In contrast to the traditional available nutrient soil tests, these tend to focus on simply the fuel in the soil, not the underlying capacity of the soil. Exercises were also covered in reference to fungi and bacteria tests, where landholders and managers can measure their soil for these important indicators in the determination of soil health.
The impact
The course provided landholders the opportunity to explore the basics of soils, soil health and soil fertility, helping them to Improve their skills and confidence in managing their own soils.
Participants gained a greater understanding of soil through hands-on training for increased transferable knowledge.
Participants have shown interest in continuing their education in soil through follow up workshops.
Luke Harrington from Best farming systems also came along and discussed sustainable farming outcomes for rural communities.
Throughout the two-day workshop, the constant theme was building understanding of the most important asset that you have, your soil, through observation and measurement. Then ultimately through this understanding developing techniques, interventions and management strategies that can maximise your soil health and ultimately performance to drive sustainable profitability into your farming enterprise.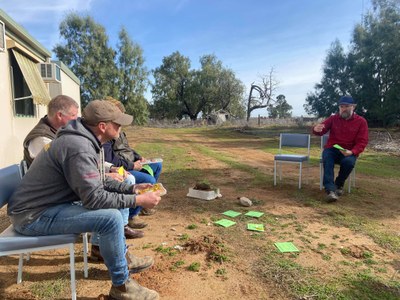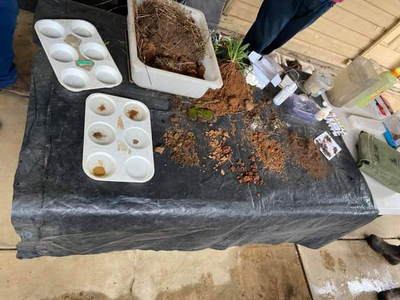 Key facts
10 participants understand the importance of Soil Biota for sustainable production, and have Improved knowledge and skills in identifying and monitoring soil biological health.
Hay Plains Landcare provided an opportunity for social connections between landholders that will enhance the shared learning journey as we hold more local discussions and workshops
Project Partners