Benchmarking soil health with Green Triangle Farmers
Producers supporting each other and learning to monitor their soils through regenerative farming practice changes
Benchmarking soil health with Green Triangle Farmers
Producers supporting each other and learning to monitor their soils through regenerative farming practice changes
Capacity to Deliver
-
LP023-015
The issue
The Green Triangle group is a group of producers located in the Golden Triangle region of North West NSW.  The group formed back in 2018 as a group of like minded regenerative farmers looking to support each other on their regenerative journeys.  In 2019 the group identified a need for capacity building around soil monitoring techniques and were also looking for independent input into their future plans for their properties.
The solution
Northern Slopes Landcare Association auspiced the group to obtain funding through the North West Local Land Services' Regional Land Partnerships funding.  The funding was used to engage Reinventing Agriculture (Kim and Angus Deans) as consultants to visit each enterprise, engage one on one with the producers to establish soil monitoring points on farm, demonstrate correct soil and leaf sample collection techniques and to discuss the landholders' vision, hopes and plans for their properties.  A comprehensive management plan was then developed for each property using the feedback from the landholders and the soil & leaf test results obtained. 
Over the next 4 years the group hosted and supported a number of events both closed (group members only) and open, to further expand their knowledge and those of their peers.  Featured speakers included  Kim and Angus Deans, Stuart Andews, and Joel Williams.  Green Triangle members Justin & Lorroi Kirkby, Richard & Janet Doyle and Ran Mitchell also spoke at events to share their experiences and knowledge with the farming community.  The group also continued to regularly get together for "cuppa chats" to share their experiences.
The impact
The 4 year project concludes this month, and a recent wrap up was held for the group to reconnect with Reinventing Agriculture in order to discuss their progress/learnings/challenges/successes over the four years and to increase their skills in assessing their own soil  - its health, structure and condition.  The group compared photographs in some cases of the same paddocks over the term of the project where changes were evident.  Support was given to some members who were discouraged due to current dry conditions - with the group pointing out the positive changes still visible on the ground, despite the poor rainfall.  The support the group provide each other through tough times and the knowledge they so willingly and openly share with both each other and the wider community is invaluable. 
The group concluded the wrap up day by planning their next planned project - this time focusing on grazing management.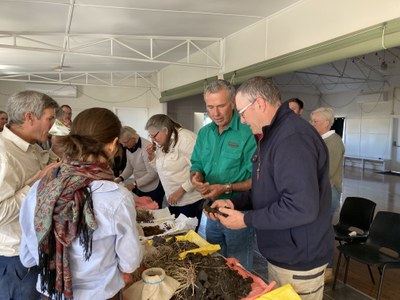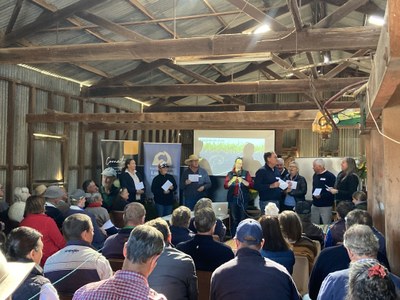 Key facts
Group support whilst embarking on Regenerative practice change can be immensely beneficial
Shared knowledge in a peer to peer learning environment is invaluable
Project Partners