Catch-ups wrap up
Supporting women with Tackling Tough Times Together funding
Catch-ups wrap up
Supporting women with Tackling Tough Times Together funding
Community Participation
-
LP023-013
The issue
Women are great connectors. However, they are also very good at putting others first, and this is especially so when times get tough, whether that be from drought, flood, fire, pandemic or all of these merged together. All these challenges occurred during the development and implementation of this project which ensured we were kept on our toes to roll out the program as planned.
Forgetting to look after the self can, and does, lead to isolation and burn out for these capable women and this is what we aimed to alleviate through our program.
The solution
We applied for funding through the Foundation of Rural Regional Renewal under the Tackling Tough Times Together stream to enable women to gather and connect with friends old and new. 
We ran 12 events in 5 locations, supporting small community halls and other venues in the Gwydir and Moree Shires. Local women gathered for friendship, food (delicious and locally provided) and fun learnings on a range of subjects including:
Nutrition myth busting
Self-massage techniques
Yoga – in the chair and on the floor, with a focus on our breath
Flower arranging
Having your cake and eating it too! - a session on time management and planning
Garden goodness
Succession planning
Mental health
Physical health
There are so many excellent service providers and businesses in our region who have much to offer - we only touched the surface with these. 
The impact
Evaluations demonstrated that the gatherings were extremely valuable for women as individuals and for their communities. We were able to support small businesses to provide the learning and the catering and at the same time enable more people to experience the vibrancy of their local community halls. Some of the Hall committees have since applied for funding to continue a similar range of activities as well as upgrade the facilities of the hall.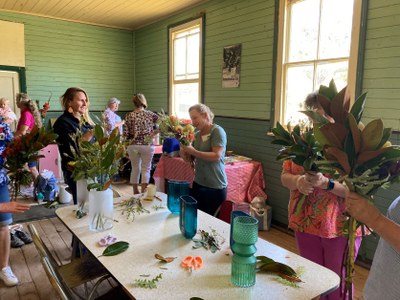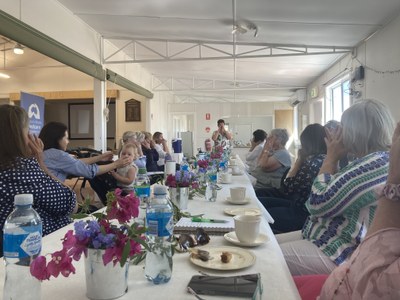 Key facts
Women connect and support each other when we provide the space
Supporting small businesses helped communities connect
Small halls are fantastic event venues
Our small communities contain many hidden gems
Project Partners