Business skills for market gardeners
Growers learn business skills for small-scale organic market gardening
Business skills for market gardeners
Growers learn business skills for small-scale organic market gardening
Local Links - Stronger Communities
-
LLCI034-004
The issue
There is a strong interest in our region in small-scale farming and entering organic production.  Supporting new-comers to the industry to learn business skills specific to farming and in particular to organic market gardening will help new entrants to plan their new enterprises for success.
This work will support the growth of this important industry in our area.
While a lot of information is available online, much of it is from the Northern Hemisphere and the information is not necessarily adapted to our climate, soil and conditions.  Successful farming is all about developing farming systems suitable for the local environment. 
Knowledge needs to be practically driven by people in the field and it is vital that we learn from and share with those who have come before us.
The solution
The Central Coast Sustainable Farming Program team engaged an experienced educator and market gardener to deliver the "Business skills for market gardeners" workshop.
The purpose of the day was to teach the business side of operating an organic market garden.  The training was the second of two one-day workshops focused on organic market gardening.
The impact
The workshop was attended by 25 eager participants made up of new and existing market gardeners as well as industry representatives.  Participants learnt business skills including
Gross margin budgeting
Managing cash flow and labour throughout the year
Marketing of products
Understanding wholesale prices compared to retail
Understanding wholesale price changes throughout the year
Options for direct selling: Farmers' Markets, Online, On farm, Community Supported Agriculture
Time sheet record keeping
Business operating costs
Point-of-sale equipment
Data collection, collation and review of sales.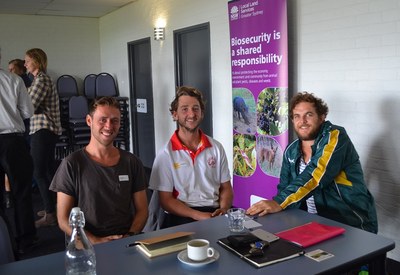 Key facts
The workshop was attended by 25 new and existing market gardeners as well as industry representatives.
Participants learnt essential business skills in operating an organic market garden
Project Partners