Cover Cropping Workshop
A workshop and field day for growers to learn about cover cropping
Cover Cropping Workshop
A workshop and field day for growers to learn about cover cropping
Local Links - Stronger Communities
-
LLCI034-007
The issue
Cover crops are being rediscovered as important tools for improving soil structure and health, controlling soil-borne disease and weeds, reducing erosion and nutrient loss, and adding nitrogen and organic matter.
The local farming community expressed an interest in bringing in a cover cropping expert to talk about advances in science, machinery and management practices to maximise the value of cover crops on their farms.
The solution
The aim was to run a practical clinic to help growers work through the following issues in relation to cover cropping:
How to select the most appropriate cover crop for each situation and requirement
How to time the planting of cover crops within available cropping windows
How to return to the next cash crop
Selection of equipment for soil preparation, sowing, termination and incorporation
The day consisted of a morning classroom session and an afternoon in the field where the group discussed two sown cover crops with different irrigation regimes and also had the opportunity to view the effects of different tillage practices.
The impact
The training was attended by over 20 growers, some who had travelled from as far as Queensland and the Riverina.
Workshop presenters, Kelvin Montagu and Adam Harber from Applied Horticulture Research and Darren Long from MG Farm Produce, Sheffield, Tasmania had a wealth of knowledge and we received excellent feedback from the participants.
 "I found the workshop really helpful," garlic grower Missy Coafield said "the highlight for me was learning the importance of the roots in a cover crop."
"I learnt that because roots grow so quickly, I can plant a cover crop in short windows of 4 – 6 weeks and get good benefits," she said.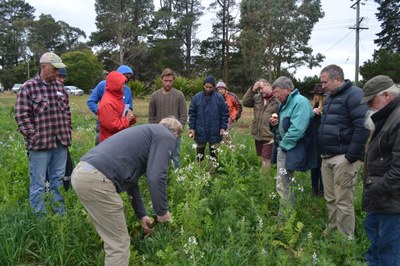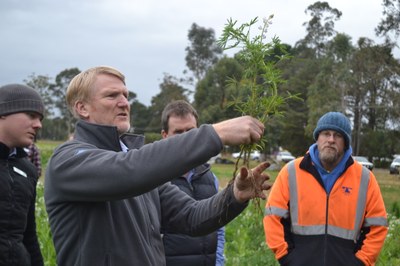 Key facts
Well managed cover crops improve soil structure and soil-water-holding capacity
Cover crops can help reduce weeds and fertiliser requirement
Cover cropping can reduce soil pests and diseases and protect the soil surface from wind and water erosion
Project Partners