Running on-farm trials
Farmers learn how to conduct an on-farm compost trial or demonstration
Running on-farm trials
Farmers learn how to conduct an on-farm compost trial or demonstration
Building our Future
-
LLCI034-002
The issue
The horticultural region in the Central Coast is a small but important food production area in NSW, yet most research and development tends to be done outside the area.  This means local farmers must adapt information generated by trial work conducted elsewhere to suit local conditions.  
Many farming practices used in the horticulture industry have negative impacts on soil health including loss of soil carbon, soil structure and biological activity. 
The solution
The Central Coast Sustainable Farming Program team hosted a field day, with a plan to run a local compost demonstration on a commercial farm in the Peats Ridge/Mangrove Mountain area,
The purpose of the day was to teach local growers how to effectively set up and monitor an on-farm trial.  This would not only give participants the tools to run their own trials, but set the platform and generate enthusiasm for the proposed compost demonstration.
DPI soil scientist, Justine Cox, who has extensive experience in running compost and biochar trials in NSW, was engaged to deliver the field day.
The impact
The field day was held at a local avocado and citrus farm and attracted 14 farmers and industry representatives.  Participants benefited from Justine's extensive field experience learning the practicalities of setting up an on-farm trial including:
Site selection
Buffer zones
Plot size
Replication
Collecting soil samples.
Farmers heard about concepts such as the importance of selecting a homogenous site. They were also taught simple, inexpensive methods to evaluate outcomes so that the information gained is reliable.
After the event, two farmers offered to host compost demonstrations on their properties.  Three demonstration sites have now been established with a field day teaching techniques for monitoring soil health already held onsite.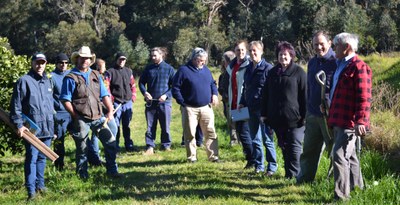 Key facts
The field day was attended by 14 farmers and industry representatives
Attendees learnt the essentials of conducting an on-farm trial or demonstration, including the difference between the two
Project Partners